'Nobody Feels Bad For You': Twitter Reacts to Kathy Griffin's Trump Photo Press Conference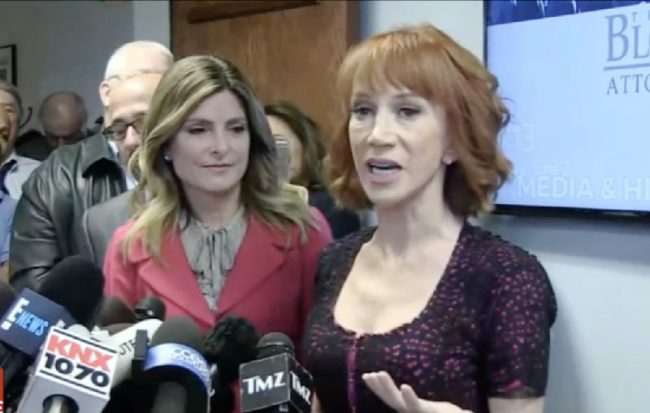 Earlier today, comedian Kathy Griffin held a press conference to address the backlash she's faced over her graphic photo featuring a model of President Donald Trump's severed head. Following the image's release earlier this week, Griffin faced widespread outrage — including condemnation from the Trump family — which resulted in her losing her CNN New Year's Eve hosting gig.
At the presser, lawyer Lisa Bloom said that the picture was a parody of Trump's own sexist remarks while making the case that Griffin has been the victim of targeted bullying by the president. Griffin claimed that she has received death threats over the photo while exclaiming that Trump had broken her, killing her career in the process.
Well, as you'd expect, Twitter was all over this, and we saw all kinds of reaction.
Conservatives had a lot of thoughts on the event. A lot:
"What's happening to me has never happened ever…" -Kathy Griffin

No celebrity has ever held up a decapitated POTUS head either, Kathy.

— Jack Murphy (@RealJack) June 2, 2017
At long last, the widely divergent paths of Kathy Griffin and Comedy finally converge. https://t.co/c8Z7dCbkL8

— Ann Coulter (@AnnCoulter) June 2, 2017
"They seem like a bunch of nut jobs." – Kathy Griffin#PROJECTION #PROJECTION#PROJECTION#PROJECTION#PROJECTION

— Stefan Molyneux (@StefanMolyneux) June 2, 2017
Kathy Griffin is the Democrat 2020 front runner.

— Stephen Miller (@redsteeze) June 2, 2017
Nobody feels bad for you Kathy Griffin. And nobody forced you to hold up a bloody decaptitated head of our president Isis style.

— Meghan McCain (@MeghanMcCain) June 2, 2017
When the left demanded @seanhannity stop speaking, it was a noble cause. When we demand @kathygriffin stop imitating ISIS, it's bullying

— Ginger McQueen (@GingerMcQueen) June 2, 2017
Kathy Griffin & Lisa Bloom dont get it

You dont attack someone & play the victim when you recieve backlash

Keep digging that hole deeper

— Josh (@JoshNoneYaBiz) June 2, 2017
Hillary Clinton and Kathy Griffin are inspiring the young women of America to never ever take responsibility for your own actions

— Scott Greer (@ScottMGreer) June 2, 2017
I must've missed the part when Trump put a gun to Kathy Griffin's head and forced her to destroy her career with a beheading stunt.

— Steve Deace (@SteveDeaceShow) June 2, 2017
.@KathyGriffin is in show business people. She weighs her options before she acts. She's no victim, she's the predator! #Covfeve #Trump

— ?Wayne Dupree (@WayneDupreeShow) June 2, 2017
Kathy Griffin says SHE was bullied by Trump family after disgusting photo of Trump's severed head. That's 1st funny thing she's said in yrs!

— Gov. Mike Huckabee (@GovMikeHuckabee) June 2, 2017
Kathy Griffin is taking a page right out of the jihadist handbook — always blame the victim.

— toddstarnes (@toddstarnes) June 2, 2017
Some members of the media weighed in on the substance of the presser:
Lisa Bloom says US Secret Service has contacted Kathy Griffin over Trump head photo & she's retained criminal lawyer.

— Steve Kopack (@SteveKopack) June 2, 2017
Lisa Bloom said @kathygriffin apologized after the photo and despite that she lost her job and received death threats pic.twitter.com/jl9mTS430W

— Claudia Rosenbaum (@CJRosenbaum) June 2, 2017
Serious question: is someone filming all of this for a new @KathyGriffin reality show?

— Brian Stelter (@brianstelter) June 2, 2017
!! Secret Service reached out to Kathy Griffin, according to Bloom at this press conference.

— Sopan Deb (@SopanDeb) June 2, 2017
We also got some good old fashioned snark:
Just throwing this out there:

Senator Kathy Griffin

— Paul McLeod (@pdmcleod) June 2, 2017
This is the longest Kathy Griffin has been on television in years.

— David Mack (@davidmackau) June 2, 2017
OK. That's enough Kathy Griffin for one lifetime. Thanks for your cooperation.

— Rosie Gray (@RosieGray) June 2, 2017
having a take on Kathy Griffin is the definition of playing yourself

— Brandy Jensen (@BrandyLJensen) June 2, 2017
Kathy Griffin press conference, summarized. pic.twitter.com/5v4Ix0AEBs

— Josh Jordan (@NumbersMuncher) June 2, 2017
Jim Carrey, who came to Griffin's defense earlier this week, had jokes:
Let's just get our priorities straight – this whole Kathy Griffin thing is covfefe. ;^P

— Jim Carrey (@JimCarrey) June 2, 2017
Keith Olbermann felt the whole thing was beneficial for Trump, invoking Russia in the process:
To @kathygriffin and @lisabloom: you could not be doing more to help Donald Trump if you were Putin. Please stop this selfish nonsense.

— Keith Olbermann (@KeithOlbermann) June 2, 2017
And there were those who were complimentary of the presser:
I want women to know, "You can break a man's record." @kathygriffin, stay strong and stay bold.

— Tamara Holder (@tamaraholder) June 2, 2017
You can believe that Kathy Griffin's photo shoot was dumb & even offensive and also be disturbed by intensity of the backlash against it.

— Joe Adalian (@TVMoJoe) June 2, 2017
[image via screengrab]
—
Follow Justin Baragona on Twitter: @justinbaragona
Have a tip we should know? tips@mediaite.com