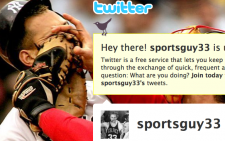 When ESPN's Ric Bucher revealed this week that ESPN was "prohibiting" its reporters from any sports-related Twitter activity not sanctioned by ESPN.com, we wondered if this "ban" was an example of micro-management of intellectual property between employer and employee. ESPN certainly didn't think so (via Twitter). The following is an exclusive follow-up with ESPN spokesman Paul Melvin, whose non-comment on Bucher's current status with ESPN provides more questions than answers.
Mediaite presented the original story with the following headline "Twitter Ban Continues: ESPN Bans its Reporters From Sports-Related Social Media." Melvin took specific exception to the term "ban" saying via Twitter:
@PaulESPNPR: "@mediaite adds to panic. ESPN policy not a 'ban' – just sets guidelines for leveraging powerful media tool responsibly."
He then directed us to read ESPN.com editor-in-chief Rob King's interview with Sports Business Daily:
"It's an important opportunity to reiterate to folks that this technology is the equivalent of a live microphone. In that respect, it should be treated with some measure of awareness about how it represents those individuals who are forward-facing talent and how it represents how ESPN wants to connect with the audience. There's a lot of education that goes along with it. Anyone who's ever had a tweet re-tweeted by the audience knows that it can be presented in ways that you might never have understood or intended when you originally articulated those 140 characters."
Regarding Rob King's live microphone metaphor — does ESPN recognize the difference between a Twitter feed and a live microphone on television (which requires incredibly exclusive access as well as millions of dollars of broadcast infrastructure)? Can you see how some might have a hard time seeing this as an apt metaphor?
Perhaps … Metaphors are rarely perfect. But the point here is that all of these media are public. Whether it is TV or radio or a blog, a column a tweet or any other publishing format, these are all public media. The words we use have impact, and we should be mindful of that. Again, this is not to say don't engage. It is not about running from these media tools or blocking them in some way. It is about providing guidelines for how a company and its public (sometimes very public) employees are going to play into this space and use these tools.
Your policy clearly states that if ESPN.com opts not to post sports-related social media content created by ESPN talent, your talent  is not permitted to report, speculate, discuss or give any opinions on personal platforms. Can you please explain your problems with our calling this a "ban"?

It may be subjective splicing of word choice. But the word "ban" suggests that we're not letting employees engage on these platforms at all … and that could not be further from the truth. What this is about is identifying and outlining some guidelines so that we can be smarter when they do engage with social media .
It is important to note, also, that there are two policies outlined in the past 24 hours:  one for all employees, which lays out that we not only understand that employees use these media — but that we encourage them to.  These media are impacting the landscape of the industry they work in, and having an understanding of them can add to their professional knowledge and make our company better. The second sets out additional guidelines and responsibilities for public-facing employees — those who are easily and commonly associated with ESPN (talent, reporters, etc.).  Unfortunately, their relative fame and public personas mean that the way they act and the things they do will be associated with ESPN and its editorial, entertainment and/or newsgathering organization. As such, there are additional responsibilities from a professional standpoint.

How strictly do you anticipate policing these new guidelines?
We intend to enforce the policies we institute, but this is clearly an evolving area. This will obviously be a process that involves education and communication as it continues to evolve.
Just after the "guidelines" were released Bill Simmons tweeted about Terry Francona's post-game dinner plans. Would that be considered a violation since it's sports-related content that wouldn't be published by ESPN?
No. The intent of the line about "sports-related content" is to get at the fact that we want to uphold the same editorial standards for reporting something, regardless of the medium. That is to say, that if ESPN decides not to publish news about a sports topic, that it should approach that in the same way across media. We're clarifying and providing guidelines for how to play in this space, not fleeing from it.

Are there any disciplinary actions taken towards Ric Bucher for breaking the news about the internal memo via Twitter?
We don't discuss personnel matters publicly.
Are you worried about diminishing your reporters relevance? Bill Simmons has over 550,000 Twitter followers — do you expect that to dwindle if he is no longer permitted to offer sports-related social media commentary that ESPN.com opts not to post?

No. We're  asking them to continue to have a presence. We are just asking them to work at developing that presence in smart and appropriate ways. We think there are great opportunities for our reporters and personalities to show parts of themselves that fans don't know. And they can do that easily within these guidelines. Example: Bill Simmons is a pop-culture encyclopedia. Everything he watches holds potential for another clever, funny insight. Rob King himself tweets — about his kids, about the teams he is personally a fan of.
Can you highlight the plan for incorporating ESPN talent's twitter feed into both ESPN Broadcast channels and ESPN.com? Any estimate as to when that will begin to be phased in?

The specific tools and implementations are in development. But the launch of SportsNation on television is one way we've begun to do this, and we are working on a platform for our online media that will allow for simultaneous publishing of content across ESPN platforms and on platforms like Twitter and Facebook. That's one of the central points here … to ensure that our content reaches as many people as it can across many platforms.
Can you see the challenge of the slippery slope with regards to outlining what can or cannot be Twittered about by personal Twitter accounts? How and where do you plan to draw the line?

Its important to note here again: There are two aspects to the social media guidelines we implemented.  If you are one of the thousands of employees that work very, very hard day in and day out, but whose name and personality are not readily associated with ESPN by the average person (ex: John Doe, working in the operations department for ESPN), and you want to have a personal account — absolutely.  We actually encourage it. If in that capacity you want to to talk about your life and mention something about your job — that is fine. But you should take pains not to speak on behalf of ESPN, and should conduct yourself in a way that won't reflect poorly on your many other colleagues.
For those of our employees that are at least partially (and readily) identified as representing ESPN — they are public ESPN personalities — then they have to realize that they are not able to fully separate  themselves from their public persona, and need to be responsible in how they engage media of any kind.
Have a tip we should know? tips@mediaite.com
Colby Hall - Founding Editor