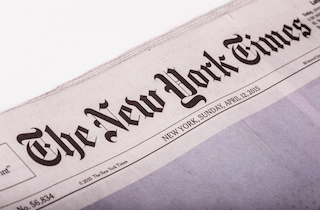 The New York Times editorial board got its chance to pan Wednesday night's Republican presidential debate, slamming the candidates for their "crazy talk," among other sharp criticisms.
The debate — a ratings gift for CNN — was full of statements that were "so untrue, so bizarre, that they form a vision as surreal as the Ronald Reagan jet looming behind the candidates' lecterns," the newspaper's editorial board wrote.
While the debate certainly had its share of notable back-and-forth jabs among certain candidates, the Times editorial board did not appreciate the actual substance of the candidates' policy conversations.
"It felt at times as if the speakers were no longer living in a fact-based world where actions have consequences, programs take money and money has to come from somewhere," they wrote. "Where basic laws — like physics and the Constitution — constrain wishes. Where Congress and the public, allies and enemies, markets and militaries don't just do what you want them to, just because you say they will."
The editorial board took issue in particular with the fact that none of the candidates dismissed Donald Trump's plan to deport 11 million undocumented immigrants, which would, according to the Times editorial board, be akin to a "21st-century Trail of Tears."
On foreign policy, they wrote, most of the discussion was centered around "not talking with bad people." The editorial board's language became particularly harsh when evaluating Jeb Bush's defense of his brother, during which he argued that the 43rd president kept the country safe: "Wait, what? Did he mean George W. Bush, who was warned about the threat that Al Qaeda would attack? Who then invaded a non sequitur country, Iraq, over a nonexistent threat?"
They also said the candidates were "let loose by the CNN moderators" — though not specifically naming Jake Tapper, Dana Bash, or radio host Hugh Hewitt.
"Despite an abundance of serious issues to talk about, nobody offered solutions to problems like child poverty, police and gun violence, racial segregation, educational gaps, competition in a global economy and crumbling infrastructure," the editorial board continued. "On looming disasters (the changing climate) and more immediate ones (a possible government shutdown over, of all things, Planned Parenthood), the debate offered no reassurance that grown-ups were at the table, or even in the neighborhood."
[Image via Shutterstock]
— —
>>Follow Andrew Desiderio (@desiderioDC) on Twitter
Have a tip we should know? tips@mediaite.com