NYC Mayor Mike Bloomberg: The Best Thing To Happen To Republicans Since Citizens United
NYC Mayor Bloomberg: The Best Thing To Happen To GOP Since
Citizens United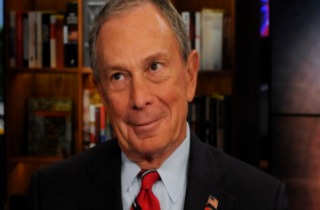 After losing two back-to-back national elections, there is nearly complete disarray in the party. Rejected twice after running national campaigns focused on the issue which voters said they cared most about – an issue which, in the abstract, should have been in their wheelhouse – political and opinion leaders are recommending sweeping reforms to ensure past mistakes will never be made again. This is the Republican Party in 2013, but it was also the Democratic Party of 40 years ago. In the early 1970s, after losing two straight presidential elections, Democrats pursued a series of reforms dedicated to reducing the likelihood that the party would nominate unelectable candidates. Today, the lessons Democrats learned from those elections are being forgotten and New York City Mayor Mike Bloomberg is funding the effort.

RELATED: NBC's David Gregory Chides Bloomberg: 'How Far Will You Go?' With Banning Things In New York City
In late February, a special primary election in Illinois became a national proxy fight between the Democratic Party's establishment forces and an ascendant, issue-based coalition of progressives lavishly funded by Bloomberg. The activist mayor of Gotham's Super PAC invested heavily in that race with the intention of blocking former Rep. Debbie Halvorson (D-IL) from reclaiming a seat in Congress.
With an American Conservative Union rating of just 8 percent in her last year in office (and 14 percent for a lifetime) Halvorson was just liberal enough for the affluent Chicago suburbs she represented before her ouster in 2010. The American Civil Liberties Union gave Halvorson 81 percent on issues relating to civil liberties. NARAL Pro-Choice America gave Halvorson a 100 percent rating on abortion rights issues. On budget and spending, Citizens Against Government Waste and the National Taxpayers Union awarded Halvorson 13 and 11 percent respectively for her fiscal liberalism.
On paper, Halvorson appears a perfect fit for the modern Democratic Party – ejected from office only due to the historical anomaly that was the 2010 midterm election. But her sin, a transgression which motivated Bloomberg to successfully support Halvorson's primary opponent, was her A rating with the National Rifle Association. Halvorson's heretical support for gun ownership prompted Bloomberg's PAC to drop $2.2 million into a primary election fight. He was successful in keeping Halvorson out of Congress and was cheered by both rank-and-file Democratic activists and the party's elite, stung but broadly supportive of the newfound energy on the left.
Today, after the Democratic Party's leadership in the Senate passed on the chance to put sweeping gun control measures before legislators in favor of a far less ambitious but passable bill, Bloomberg is again leveling his PAC's guns over the bow of the Democratic Party. On Saturday, Bloomberg's group, Mayors Against Illegal Guns, announced it will launch a $12 million ad campaign in 13 states: Arkansas, Arizona, Georgia, Indiana, Iowa, Louisiana, Maine, New Hampshire, Nevada, North Carolina, North Dakota, Ohio and Pennsylvania. Five of those states are home to competitive senate seats in 2014. Three of those states were won by Mitt Romney in 2012, but are represented by Democratic senators spared the career-endangering vote for or against controversial gun control measures by Democratic leadership.
Bloomberg's activism is the best thing to happen to Republicans since the Supreme Court's ruling in Citizens United for three reasons. First, and most obviously, Bloomberg's unashamed efforts to ban or curtail those pleasures his unelected bureaucrats deem harmful is unvarnished progressivism's oldest and most distasteful impulse.
Second, Bloomberg is the physical embodiment of the hypocrisy the Democratic Party and the media display on campaign finance reform issues. Combined with the news that the liberal Tides Foundation had contributed five times more progressive causes than the oft-maligned libertarian Koch Brothers contributed to Republicans, Bloomberg's financial contributions to liberal candidates demonstrates that progressives and the media establishment are only concerned about campaign finance issues when Democratic candidates are in danger of losing elections.
Finally, from a Republican's perspective, Bloomberg is also having a much more beneficial effect on the political landscape than any reform the GOP could institute on its own. Bloomberg is singlehandedly helping the Democratic Party unlearn the lessons which led to the 1974 campaign reforms.
Empowered by the public desire for major reforms in the wake of the Watergate Scandal, the 1974 amendments to the 1971 Federal Election Campaign Act were embraced by Democratic lawmakers because, in concert with the primary election reforms recommended by the McGovern-Fraser Commission, the disclosure requirements now mandated by law would make it far more difficult for a handful of donors to bankroll candidates unrepresentative of the broader electorate.
Today, Bloomberg is actively fomenting a liberal, issue-oriented insurgency from within the Democratic Party. Undeterred by Sen. Harry Reid's (D-NV) efforts to shield his vulnerable members from a damaging vote, Bloomberg leads a coalition of progressive voters forcing the party's officials to the left of the electorate.
An earlier version of this article asserted that the Tides Foundation donated primarily to liberal candidates. In fact, Tides has contributed to candidates as well as liberal charities and political causes.
> >Follow Noah Rothman (@NoahCRothman) on Twitter
Have a tip we should know? tips@mediaite.com