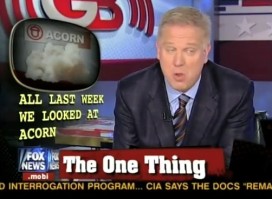 Clark Hoyt, the New York Times ombudsman thinks the paper should stop running scared from Glenn Beck. Hoyt took the Times to task this weekend over their coverage (or lack thereof) of the ACORN and the Van Jones debacle, both incidents which arguably developed into national stories due to their flames being relentlessly fanned by "the polemical world of talk radio, cable television and partisan blogs." A world, says Hoyt, that the Times has trouble dealing with.
But for days, as more videos were posted and government authorities rushed to distance themselves from Acorn, The Times stood still. Its slow reflexes — closely following its slow response to a controversy that forced the resignation of Van Jones, a White House adviser — suggested that it has trouble dealing with stories arising from the polemical world of talk radio, cable television and partisan blogs. Some stories, lacking facts, never catch fire. But others do, and a newspaper like The Times needs to be alert to them or wind up looking clueless or, worse, partisan itself.
Apparently part of the problem is that Times editors do not watch enough Fox. Or any Fox as the case may be. Says Jill Abramson there was an "insufficient tuned-in-ness to the issues that are dominating Fox News and talk radio."
Some editors told me [Hoyt] they were not immediately aware of the Acorn videos on Fox, YouTube and a new conservative Web site called BigGovernment.com. When the Senate voted to cut off all federal funds to Acorn, there was not a word in the newspaper or on its Web site. When the New York City Council froze all its funding for Acorn and the Brooklyn district attorney opened a criminal investigation, there was still nothing.
Which is a major problem. You may not like Glenn Beck, you may think he is a nut job. You may think what he does is not journalism, you may think that in a perfect world of objective, reasoned, researched news reporting he should not have a place. But you ignore him at your own peril. Actually, there is the argument to be made that the Times ignores him at everyone's peril — it is their job, after all, to watch and report on things the rest of us may not have the stomach for or any interest in. They are supposed to be watching Fox News so that other people don't have to, not the other way around.
According to Hoyt the Times has recognized this and assigned an editor to watch Fox(!) along with a bunch of other sites they don't normally like to sully themselves with "to brief them frequently on bubbling controversies." Ha! They should just read Mediaite more. Alas, managing editor Bill Keller "declined to identify the editor, saying he wanted to spare that person "a bombardment of e-mails and excoriation in the blogosphere." Good luck with that.
Have a tip we should know? tips@mediaite.com