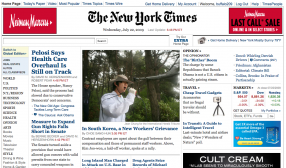 Can it be possible that the NYT.com doesn't pay attention to its homepage click-through rate? (Meaning it has no idea which stories drive the most traffic further into the site.) And that traffic has no bearing on where stories get placed on the homepage and how long they stay there? Because that's certainly what New York Times deputy managing editor Jonathan Landman and Times' associate managing editor and NYTimes.com's digital news editor Jim Roberts make it sound like in a interview in today's Observer.
Both Mr. Landman and Mr. Roberts say that Web stats have no bearing on what they choose to put on the front page of the newspaper or the home page of the site. "In terms of minute-to-minute news decisions, I think that would pretty much drive me crazy," Mr. Roberts said.

"You know, I would say if I had more time I would probably try to investigate more in what our readers are doing," Mr. Roberts said. "I guess I would rather know some broad trends, than some specific minute to minute thing," like whether readers are more interested in science news or fashion reports.
It is an amazing revelation in a world where applications like Google Analytics allow websites to determine exactly what is driving traffic, and where, and when, down to the most minute details (and tag words). That said, one of the huge benefits — and responsibilities — of the Times is that it, arguably more than any other news source, determines what the stories of the day are. So leave something above-the-fold long enough and it just by nature of its placement it becomes important and probably it's eventually going to drive traffic. Which may make NYT.com the only tail-wagging-dog website in existence.
Have a tip we should know? tips@mediaite.com