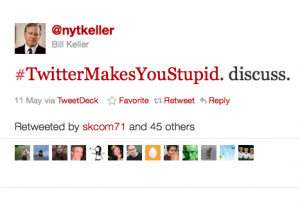 Bill Keller, New York Times executive editor and, like, world's strictest dad ever, took to the paper to vent a bit about Twitter and other forms of social media. Keller doesn't like Twitter too much, it seems. You see, he and his wife – who is herself an avid Twitter user – just permitted their 13-year-old daughter to open her own Facebook account, much to Keller's personal dismay. Keller wonders whether the toll we pay for so much access to one another online, and to many time and energy-saving applications found on the internet, ultimately ends up being a piece of ourselves. Heavy:
My father, who was trained in engineering at M.I.T. in the slide-rule era, often lamented the way the pocket calculator, for all its convenience, diminished my generation's math skills. Many of us have discovered that navigating by G.P.S. has undermined our mastery of city streets and perhaps even impaired our innate sense of direction. Typing pretty much killed penmanship. Twitter and YouTube are nibbling away at our attention spans. And what little memory we had not already surrendered to Gutenberg we have relinquished to Google. Why remember what you can look up in seconds?

Robert Bjork, who studies memory and learning at U.C.L.A., has noticed that even very smart students, conversant in the Excel spreadsheet, don't pick up patterns in data that would be evident if they had not let the program do so much of the work.
Keller isn't too convinced that many of today's social media outlets are "social" so much as noisy distractions keeping us from spending time on other pursuits, like our work and one another. Although a virtual fireplace isn't too bad of a place in front of which to read your digital subscription to the New York Times.
Of course, a story on social media written by the NYT's executive editor is going to garner quite a bit of attention on – You guessed it! – Twitter. Here's what some in the media are saying about Keller's op-ed piece:
Anthony De Rosa, of Reuters and Neighborhoodr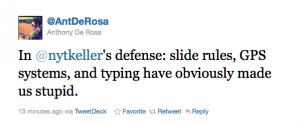 and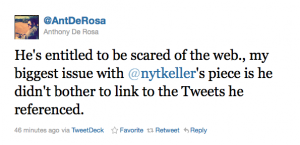 The Daily's Hunter Walker
Gawker's Adrian Chen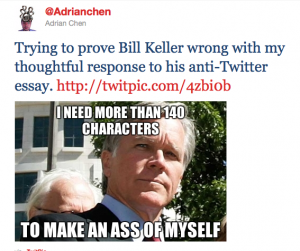 With Keller's increased propensity to use his column as a way to bash new means of sharing news, modern methods of keeping in touch with people all over the world, and his online competitors, we can't help but wonder: Is Keller's column a bad move for the Times – or is any Twitter buzz good Twitter buzz?
h/t NYT
Have a tip we should know? tips@mediaite.com