Obama Campaign Manager: Women 'Not Really Concerned' With Past 4 Years, More Concerned About Future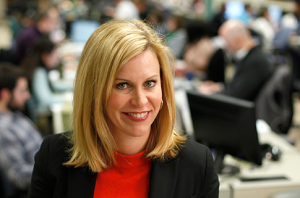 Stephanie Cutter, Deputy Campaign Manager for President Obama's reelection campaign, threw a good pitch in the dirt on Monday when she told NPR's Diane Rehm that women are "not really concerned about what's happened over the last four years, they really want to know what's going to happen in the next four years."
While there are fact to support Cutter's overall point, her phrasing gave the Romney campaign an opening to paint her as overly dismissive, which they leaped on with gusto.
If recent polls are any indication, women are breaking in President Obama's favor in a big way, an indication that the slow, steady progress of the past four years is less of a concern than the prospect of a Mitt Romney presidency, coupled with a Republican-controlled Congress. That's the "elegant" way of saying what Stephanie Cutter said earlier today:
"That's the other thing that you find most often with women. They're not really concerned about what's happened over the last four years, they really want to know what's going to happen in the next four years."
The President's lead with women might also have to do with the Romney/Ryan record on many issues that are important to women, such as access to contraception, reproductive choice, and equal pay.
More broadly, the President's consistency in the polls following bad-to-worse jobs numbers the past few months also suggests that the past four years of economic news, however you view them, are already baked into the cake.
The Romney campaign, however, was quick to jump on the first part of Cutter's sentence. From Romney spokesperson Andrea Saul:
"It is highly offensive that the Obama campaign believes women either haven't noticed or aren't smart enough to care about how devastating President Obama's failed economic policies have been for us. On President Obama's watch, women have lost 419,000 jobs, our poverty rate is the highest it's been in 17 years, and we shoulder $16,000 more in national debt as a result of his misguided economic policies. Worse still, all we can expect from President Obama's second term is more of the same. Clearly, women can't afford another four years like the last four years."
As always, the Romney campaign fails to point out that the US economy lost more jobs for women by President Obama's first full month in office (478,000) than the total figure that Saul quotes, tagging President Obama for the effects of the Bush economic collapse.
Still, in a campaign in which Mitt Romney seems to be doing all of Cutter's work for her, this isn't the kind of sound bite she should be handing the Romney campaign. If Team Obama sealed themselves in a cave at this point, they'd have a pretty good chance at reelecting their guy, so when they do go out, they need to play error-free ball.
Have a tip we should know? tips@mediaite.com