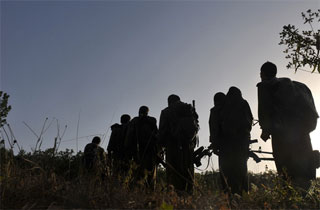 The Daily Beast today broke the news that the Obama administration has privately slashed funding for the Syrian rebels fighting against Assad and ISIS, and according to U.S. officials, the primary reason is that the rebels are not performing to expected standards.
While Obama has been touting the strategic benefits of partnering with the rebels, four out of the sixteen rebel groups working with the U.S. government have lost their funding, and the rest have seen a dramatic decrease in their funding. Rebels say no one has given them any concrete reason to expect their funding and supplies to be cut, leading to suspicion that "that Washington is ready to cut some sort of deal with Assad in the short or medium term if, indeed, it has not done so already."
On the other hand, Washington believes that the groups are not as effective as they hoped, or worse, could defect to ISIS or Al Nusra, another terrorist group in the region. From the Daily Beast:
Privately, U.S. officials concede there have been funding changes. But American intelligence sources insist this is not a reflection of any shift in CIA strategy. They talk about "individual case-by-case shutoffs" that are the consequences of brigades collapsing or failing to perform. And these sources dispute suggestions there's an overall decrease in CIA subsidies, saying they are not giving up on the Syrian rebels—even though the Syrian rebels in the north of the country in the vicinity of the Turkish border increasingly believe this to be true. (Those in the south, near the Jordanian border and Damascus, may fare better.)

A State Department official told The Daily Beast that "the CIA has more money now than before and the State Department pie has not shrunk," but confirms there has been some cutting off and cutting down. The official cited the "poor performance" of rebel brigades in Idlib last October as a primary reason.
Regardless, the news is sure to irk Republicans wondering what the heck Obama is doing on the ground, or if he has any strategy at all. "This strategy makes Pickett's Charge appear well thought out," Sen. Lindsey Graham (R-SC) told the Beast. "We're about to train people for certain death."
For more information on how not-funded the Syrian rebels are, the full report is here.
[thomas koch / Shutterstock.com]
—
>> Follow Tina Nguyen (@Tina_Nguyen) on Twitter
Have a tip we should know? tips@mediaite.com