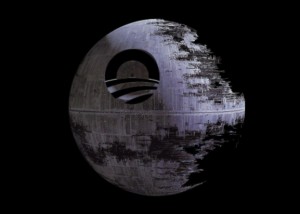 On Wednesday, President Obama announced his proposals to reduce gun violence, including 23 executive actions that he signed immediately, and a legislative agenda that includes universal background checks, and bans on assault weapons and high-capacity magazines. The President said, during that announcement, that legislative action would "not happen unless the American people demand it."
To that end, President Obama's campaign mothership, Obama For America, sent an email to supporters Thursday, urging them to "Stand with the President to reduce gun violence."
During the 2012 election, the Obama campaign operation loomed large, providing the President with an unparalleled ground game which gets much of the credit for propelling him to victory. With an email list countable in tens of millions, Obama For America has the capability to conduct staggering grassroots outreach, which they're doing now to help the President push the Biden task force's agenda to reduce gun violence. On Thursday morning, Obama For America campaign manager Jim Messina sent the following email to supporters:
Yesterday, President Obama announced his plan to protect our children and our communities by helping reduce gun violence.

We won't stop every violent act like the one in Newtown, Connecticut. But if we can save the life of even one child, the President believes each of us has a responsibility to take action.

People like you spoke out and demanded action. Your input, along with ideas from leaders and policymakers across the political spectrum, went into the President's plan.

Learn more about the plan, and say you stand with President Obama in tackling this critical issue.

Most gun owners use their guns safely and responsibly, and the President believes firmly in protecting our Second Amendment rights.

But common-sense changes can go a long way in keeping our streets and our schools safer — and there's too much at stake to stand by and wait for action.

The President will not wait. Yesterday, he signed 23 executive actions to start moving our country in the right direction. And he's calling on Congress to act on four legislative measures — closing background check loopholes, banning military-style assault weapons, making our schools safer, and increasing access to mental health services — right away.

Take a look at the President's plan to reduce gun violence, and stand with him in support:

http://my.barackobama.com/Gun-Reform

More soon,

Messina

Jim Messina
Campaign Manager
Obama for America

P.S. — Please visit the White House site to learn more about what's at stake, join in the discussion, and download the President's full gun control plan.
Campaigning for gun regulation isn't the same as campaigning for national office, so it's still unclear how many of OFA's organizational assets can be brought to bear, or how effective this outreach will be beyond the President's existing supporters, but it is a direct line to several times more people than  the National Rifle Association can boast as members. At the very least, this effort could help to crack tough Democratic nuts like Sen. Harry Reid, who clearly wishes to avoid a vote on the assault weapons ban.
Have a tip we should know? tips@mediaite.com