Obama Heads to Golf Course After Receiving Reports on Berlin Attack and Russian Ambassador Death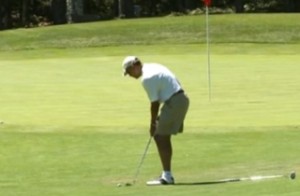 Well, this is what one would call bad political optics.
With the dual breaking news events surrounding potential terrorism and a foreign diplomat being shot to death, White House pool reports showed that President Barack Obama headed to a country club in Hawaii near his rental house, where he is vacationing.
The first email shows that Obama has directed his staff to keep him updated on the situation in Turkey regarding the assassination of the Russian Ambassador.
From the White House, per Principal Deputy Press Secretary Eric Schultz:

"This morning the President was briefed by his National Security Team on the assassination of the Russian Ambassador to Turkey in Ankara today. The President directed his team to provide updates as warranted."

Meanwhile, at 10:10 a.m. in Kailua, the press van prepares to depart the rental house where we've been holding.
In a following email, we are informed that Obama is leaving the rental home to go play golf.
The President and his motorcade departed the Kailua neighborhood where the First Family rents a vacation home at 10:21 a.m. Spectators on the street threw shakas and recorded photos or video on cell phones as the motorcade made the 10-minute drive to Mid-Pacific Country Club, where the President will be golfing under cloudy skies.
The times listed are local Hawaii time. Obama's motorcade left his vacation home at 3:21 PM ET.
Currently, the news is dominated by both the assassination in Turkey, which could have large-scale implications on foreign policy and relations, and multiple deaths in Berlin via a truck driving through a market in an incident reminiscent of the Nice terror attack.
Needless to say, there will be a lot of negative attention given to Obama playing golf in the immediate aftermath of these horrific, and potentially history-altering, events.
[image via screengrab]
–
Follow Justin Baragona on Twitter: @justinbaragona
This is an opinion piece. The views expressed in this article are those of just the author.