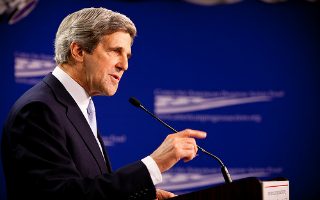 President Barack Obama has chosen 2004 Democratic presidential nominee and Massachusetts Sen. John Kerry to play Mitt Romney when his campaign begins preparations for the three presidential debates this fall.

RELATED: CNN's Candy Crowley Grills Senior Obama Adviser On Obama's Underwhelming Campaign Message
According to a Washington Post report, Obama and Kerry aides confirmed that the senior Massachusetts senator will play the role of Mitt Romney when Obama practices for the debates.
Kerry, a former presidential candidate who is intimately familiar with his former governor's debate and governing style, will help President Obama prepare for any rhetorical fast balls that Romney may throw Obama's way.
The Post notes that Romney's debate performance in his 2002 run for governor of the Bay State was "believed to have helped him win."
Kerry has long been considered one of the Democratic Party's most skilled debaters, and his performances in more than 25 debates in the 2004 race earned plaudits. Some credited his strong debates against President George W. Bush with tightening the race in the closing weeks of the 2004 campaign.
Unmentioned in the Washington Post article is the frequency with which John Kerry is compared to Mitt Romney and in more ways than one.
Kerry and Romney are both wealthy politician with a Northeastern background and a reputation for being aloof and distant from the concerns of average voters.
Democrats hope to make Mitt Romney the Republican John Kerry in November – political analysts cite the 2004 reelection of incumbent President George W. Bush as the model for Barack Obama.
The President seems to be listening. He is focusing primarily on exciting his base voters hoping for a narrow victory in the fall, following a model for victory pioneered by Karl Rove in 2004.
The selection of Kerry taps into a Democratic zeitgeist on a number of levels.
Mitt Romney has not yet made his selection of a Republican to play President Obama in the mock debates. Ohio Sen. Rob Portman, a politician often said to be on Romney's short list of potential vice presidential picks, was tapped by Sen. John McCain to be his debate prep partner to play Obama in 2008.
h/t Washington Post
> >Follow Noah Rothman (@Noah_C_Rothman)on Twitter
Have a tip we should know? tips@mediaite.com