Obama Talks 'Mean-Spirited Politics' and How Fox Made Him 'Scary' in Interview with Author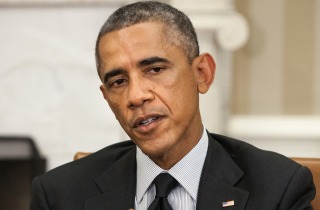 One of President Obama's favorite authors is Marilynne Robinson; her 2004 book Gilead is one of his favorite books. And so last month, the president got a rare opportunity to do an interview where he's the one asking the questions, and talked to Robinson about a lot of the themes in her work.
One of those themes is religion, and Robinson told the president, "I believe that people are images of God. There's no alternative that is theologically respectable to treating people in terms of that understanding."
As they spoke about religion, Obama brought up an "us versus them" mentality amongst some Christians and observed, "It seems as if folks who take religion the most seriously sometimes are also those who are suspicious of those not like them."
Obama and Robinson got into American values and politics, and how "this goodness and decency and common sense on the ground, and somehow it gets translated into rigid, dogmatic, often mean-spirited politics."
But at one point, the president invoked how he was able to connect with people in places like Iowa before the conservative media stepped in:
It's interesting, because we're talking in Iowa; people always, I think, were surprised about me connecting with folks in small-town Iowa. And the reason I did was, first of all, I had the benefit that at the time nobody expected me to win. And so I wasn't viewed through this prism of Fox News and conservative media, and making me scary. At the time, I didn't seem scary, other than just having a funny name. I seemed young.
Part one of their interview is available here.
[image via Shutterstock]
— —
Follow Josh Feldman on Twitter: @feldmaniac
Have a tip we should know? tips@mediaite.com
Josh Feldman - Senior Editor