Obama's Campaign Slogan Ends With A Period, And This Is Apparently Upsetting People
Obama's Campaign Slogan Ends With A Period, And This Is Upsetting People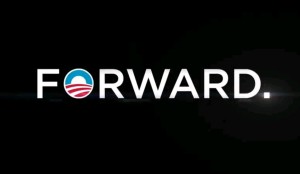 Remember a few months ago when the Obama campaign revealed "Forward" as a campaign slogan and it got a mixed reception? Well, another aspect of the slogan is now riling up grammar Nazis inside the Obama campaign: why is there a period at the end of it?!
RELATED: Megyn Kelly Panelist Compares Obama Campaign Slogan To New Coke: 'Nobody Likes It'
Not since the Oxford comma has punctuation drawn such national attention from people who care about this sort of thing. The Wall Street Journal details just how seriously the Obama campaign is taking this dot.
The period was a subject of a spirited debate as Mr. Obama's senior advisers and outside consultants spent hours in a conference room at their Chicago campaign headquarters deliberating over the perfect slogan, according to an adviser who was in attendance.

Does a period add emphasis? Yes! Does it undermine the sense of the word? Maybe!

David Axelrod, the president's longtime messaging guru, is a champion of the period. "There's some finality to it," Mr. Axelrod said. For those who think it stops "forward" in its tracks, he has a suggestion: "Tell them just to put two more dots on it, and it'll seem like it keeps on going."
The Journal even consulted an art director and several grammar expert, all of whom had less-than-positive things to say about the period. One Republican congressman agreed that it didn't feel right for the president's campaign.
Personally, I can't wait for the 2016 election when Chris Christie makes history with the first campaign to ever utilize the power of a semicolon.
h/t POLITICO
—–
Follow Josh Feldman on Twitter: @feldmaniac
Have a tip we should know? tips@mediaite.com
Josh Feldman - Senior Editor