On 100th Day in Office, Trump Slams 'Fake Media' for Refusing to Cover His Achievements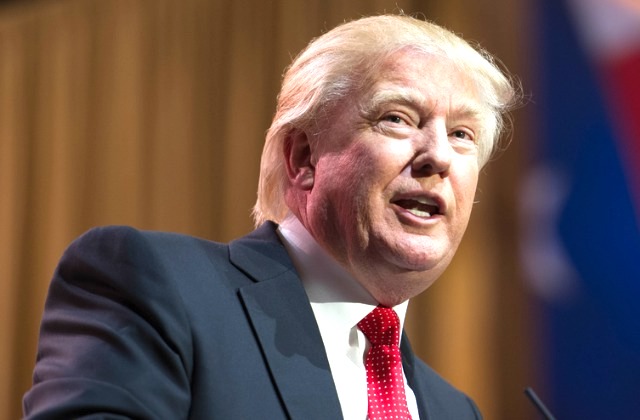 On his 100th day in office, President Donald Trump took to Twitter to blast the "mainstream (FAKE) media" for not covering his achievements enough:
Mainstream (FAKE) media refuses to state our long list of achievements, including 28 legislative signings, strong borders & great optimism!

— Donald J. Trump (@realDonaldTrump) April 29, 2017
This has been a common refrain from the White House in these first 100 days. Kellyanne Conway has said that she doesn't mind critical coverage, but she's looking for "full" coverage that also focuses on the president's successes.
But Trump's relationship with the press has become one of the biggest stories of these first 100 days. Just last night he was praising Fox Business' Lou Dobbs for commentary praising his achievements thus far, and he said in an interview last night on Fox News that the press isn't treating him fairly… except for Fox.
In fact, here's a short little retrospective on the president going after the media in tweets since taking office:
Thank you to Prime Minister of Australia for telling the truth about our very civil conversation that FAKE NEWS media lied about. Very nice!

— Donald J. Trump (@realDonaldTrump) February 3, 2017
I call my own shots, largely based on an accumulation of data, and everyone knows it. Some FAKE NEWS media, in order to marginalize, lies!

— Donald J. Trump (@realDonaldTrump) February 6, 2017
Just leaving Florida. Big crowds of enthusiastic supporters lining the road that the FAKE NEWS media refuses to mention. Very dishonest!

— Donald J. Trump (@realDonaldTrump) February 12, 2017
"One of the most effective press conferences I've ever seen!" says Rush Limbaugh. Many agree.Yet FAKE MEDIA calls it differently! Dishonest

— Donald J. Trump (@realDonaldTrump) February 17, 2017
Give the public a break – The FAKE NEWS media is trying to say that large scale immigration in Sweden is working out just beautifully. NOT!

— Donald J. Trump (@realDonaldTrump) February 20, 2017
FAKE NEWS media knowingly doesn't tell the truth. A great danger to our country. The failing @nytimes has become a joke. Likewise @CNN. Sad!

— Donald J. Trump (@realDonaldTrump) February 25, 2017
It is amazing how rude much of the media is to my very hard working representatives. Be nice, you will do much better!

— Donald J. Trump (@realDonaldTrump) March 13, 2017
If the people of our great country could only see how viciously and inaccurately my administration is covered by certain media!

— Donald J. Trump (@realDonaldTrump) March 29, 2017
It is the same Fake News Media that said there is "no path to victory for Trump" that is now pushing the phony Russia story. A total scam!

— Donald J. Trump (@realDonaldTrump) April 1, 2017
Anybody (especially Fake News media) who thinks that Repeal & Replace of ObamaCare is dead does not know the love and strength in R Party!

— Donald J. Trump (@realDonaldTrump) April 2, 2017
The Fake Media (not Real Media) has gotten even worse since the election. Every story is badly slanted. We have to hold them to the truth!

— Donald J. Trump (@realDonaldTrump) April 17, 2017
No matter how much I accomplish during the ridiculous standard of the first 100 days, & it has been a lot (including S.C.), media will kill!

— Donald J. Trump (@realDonaldTrump) April 21, 2017
Don't let the fake media tell you that I have changed my position on the WALL. It will get built and help stop drugs, human trafficking etc.

— Donald J. Trump (@realDonaldTrump) April 25, 2017
And, of course:
The FAKE NEWS media (failing @nytimes, @NBCNews, @ABC, @CBS, @CNN) is not my enemy, it is the enemy of the American People!

— Donald J. Trump (@realDonaldTrump) February 17, 2017
[image via screengrab]
— —
Follow Josh Feldman on Twitter: @feldmaniac
Have a tip we should know? tips@mediaite.com
Josh Feldman - Senior Editor