Oregon Sheriff Vows He Will Not Enforce 'Unconstitutional' New Gun Control Legislation
Sheriff Vows To Not Enforce 'Unconstitutional' New Gun Control Legislation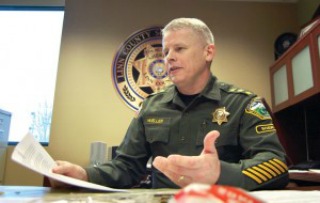 Oregon sheriff Tim Mueller sent a letter to Vice President Joe Biden this week saying that he won't enforce any federal regulation "offending the constitutional rights" of his citizens. Mueller is preemptively opposing any new gun control legislation that President Obama might announce today.
Mueller posted the letter on his department's Facebook page and it subsequently went viral, with over 59,000 likes and shares. In it, he says politicians are "attempting to exploit the deaths of innocent victims" by enacting new gun control measures. He adds that he took an oath to support the U.S. Constitution and any laws preventing citizens from owning firearms and ammunition would be a violation of their rights.
RELATED: Scarborough Goes Off On 'Sheer Ignorance' Of Gun Lobby Who Believe 'Constitutional Right' To 'Assault Weapons'
"We are Americans," he writes. "We must not allow, nor shall we tolerate, the actions of criminals, no matter how heinous the crimes, to prompt politicians to enact laws that will infringe upon the liberties of responsible citizens who have broken no laws."
Along with vowing not to enforce any new gun laws, Mueller also says he will not allow federal officers to come to his county to enforce them, either.
Mueller isn't alone: Sheriff Denny Peyman of Jackson County, Kentucky also vowed to disregard any federal directive on gun or magazine restrictions. He held a townhall meeting with his residents where he claimed as sheriff, he had more power than the federal government.
"They need to go back and study that. We are a commonwealth. I can ask federal people to leave, they have to leave. I can ask state people to leave, they have to leave," he said.
Texas Representative Steve Toth (R-TX) also said this week he plans to introduce legislation that would make it illegal to enforce federal bans on assault weapons. Toth told WOAI 1200-AM that "there needs to be a showdown between the states and the federal government over the Supremacy Clause." He said there is a "responsibility to push back" when "laws are infringed by King Obama."
Toth said the bill would call for the "criminal prosecution" of any "federal official" that comes into the state of Texas to enforce executive orders.
Obama is expected to announce several new gun control measures today, including universal background checks and bans on assault weapons and high-capacity magazines. Watch the live stream of the announcement here.
h/t CNN
Have a tip we should know? tips@mediaite.com