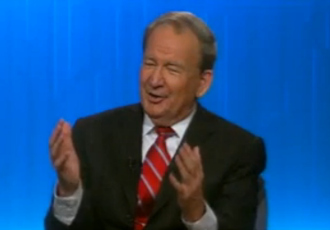 During Sunday's edition of the long-running syndicated political talk show The McLaughlin Group, the panel discussed the potential for a female presidency in America. Asked specifically when the country would elect its first female president, conservative commentator Pat Buchanan predicted the year "2040 or 2050." When pressed about the year being so far away, Buchanan quipped "let's hope so."
No stranger to controversy, Buchanan was recently fired from his contributor post at MSNBC after controversy erupted over his newest book which bemoans "the end of White America."
During a segment asking "Where are the women?" the panel discussed the fact that female voters represent a larger segment of the voting electorate than men in every presidential election since 1984, yet there are so few females in Congress. Panelist Eleanor Clift chalked it up to the fact that women "have better things to do."
Host John McLaughlin then asked Buchanan: "Let's cut to the chase here, all right? When will the United States elect a female president? When? … I want a year. We've got four quadrennial cycles."
"2040 or 2050," Buchanan replied.
"That late?" McLaughlin pressed.
"Let's hope so," Buchanan quipped, and the panel broke out into laughter.
McLaughlin added that "Hillary Clinton owes it to her gender" to run for president, with Clift predicting that Clinton will be the first female president in 2016. Buchanan objected, saying that the current Republican ticket is not even going to consider a woman for vice-presidency, and thus the unlikelihood of a female president until 2040.
"2028," McLaughlin concluded with his own prediction.
Check out the clip below, via McLaughlin Group:
(h/t ThinkProgress)
>> Follow Andrew Kirell (@AndrewKirell) on Twitter
Have a tip we should know? tips@mediaite.com