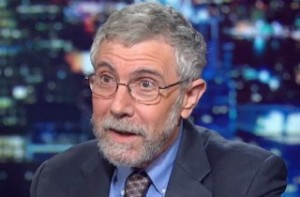 In response to the bombshell Washington Post report stating that the CIA has concluded that Russia interfered in the election to assist Donald Trump, New York Times columnist Paul Krugman took to the paper's Opinion Pages to deliver a piece calling the election "tainted."
The Nobel Prize winning economist made the case that not only did Russian hacking sway the election results, but the letter released by FBI Director James Comey, indicating the investigation into Hillary Clinton's emails had new developments, days before the election also had a major impact.
Did the combination of Russian and F.B.I. intervention swing the election? Yes. Mrs. Clinton lost three states – Michigan, Wisconsin, and Pennsylvania – by less than a percentage point, and Florida by only slightly more. If she had won any three of those states, she would be president-elect. Is there any reasonable doubt that Putin/Comey made the difference?
Krugman pointed to Clinton's lead of nearly three million in the national popular vote to highlight that if she would have been able to shift those tens of thousands of votes in three swing states that her victory wouldn't have been seen as marginal. At the same time, while describing it as a "tainted election," Krugman noted that the result won't be overturned because the votes weren't counted wrong.
Explaining that democratic norms "continue to be violated, Krugman stated that Trump doesn't deserve the "benefit of the doubt" due to him only having his position due to foreign interference.
And when, as you know will happen, the administration begins treating criticism as unpatriotic, the answer should be: You have to be kidding. Mr. Trump is, by all indications, the Siberian candidate, installed with the help of and remarkably deferential to a hostile foreign power. And his critics are the people who lack patriotism?
The NYT columnist ended the piece by saying that the "election was an outrage, and we should never forget it" while advising not to let go of one's anger over the situation but to not let it boil over.
[image via screengrab]
–
Follow Justin Baragona on Twitter: @justinbaragona
Have a tip we should know? tips@mediaite.com