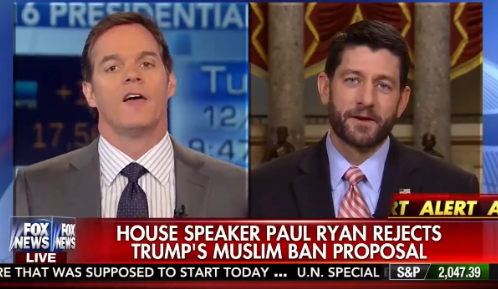 Speaker of the House Paul Ryan Tuesday addressed rumors that GOP party leaders are considering the possibility of a brokered convention, telling America's Newsroom host Bill Hemmer, "all this talk is ridiculous."
Last week, The Washington Post reported that GOP leaders are contemplating potential outcomes if no one candidate wins enough delegates to grab the party nomination at the Republican National Convention next summer. The report drew criticism from GOP candidates, including frontrunner Donald Trump, who admonished party leaders for holding "closed door meetings" and broaching "backroom deals."
Hemmer, noting Paul's prior criticism of Trump's Muslim ban proposal, asked the Speaker of the House if Trump's campaign is "good for the GOP."
"I think this is a healthy process," Ryan said, adding that he "trusts" the Republican primary voter to elect the best candidate.
"I didn't hear a yes or no in the answer," Hemmer replied.
"I'm not going to get into the go-between who's up and who's down and who's down in the presidential primary process," Ryan said.
"If you go to Cleveland next summer with a brokered convention," Hemmer continued. "You are considered a unifier in the party now–"
"No, I'm going to be the chair of the convention," Ryan interjected.
"And with a brokered convention, as the chair, would you then step into the breach or even consider that possibility, knowing the amount of respect you have today from both sides?" Hemmer asked.
"No, I'm not considering that possibility, and I think this talk is ridiculous." Ryan said. "We have a primary process, and we haven't even started the Iowa caucus for Heaven's sake. All this talk is ridiculous."
"I trust the Republican primary voter — they will sort this out. I am one of the millions of primary voters who will help sort this thing out. We will have a good nominee, I expect that that's going to be the case this time around, and I think all this talk about brokered conventions and who's up who's down is ridiculous," he added.
Have a tip we should know? tips@mediaite.com