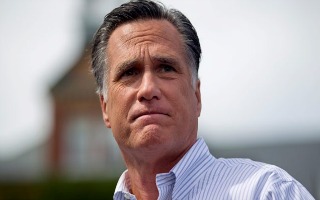 PolitiFact published its 2012 "Lie of the Year" winner Wednesday morning and for anyone who followed the election this year, the results might not be too surprising: the honor of biggest whopper goes to former presidential hopeful Mitt Romney, for his claim that Jeep was moving its U.S. production to China.
The lie apparently began with a grain of truth. After a Bloomberg article reported that Chrysler was planning to restart production of Jeeps in China, a conservative blogger jumped on the story, followed by the conservative Drudge Report, followed by the Romney camp. The Bloomberg article made clear however, after the first several lines, that Chrysler was planning on expanding into China, rather than shutting down American production.
Even after swift and continuous denials by Jeep's parent company, the Romney camp persisted in spreading the lie, eventually even turning it into a TV ad. Politifact notes that "they stood by the claim, even as the media and the public expressed collective outrage against something so obviously false."
Romney did eventually have to answer for the deception, however, as the campaign received a slew of negative press for it and he ultimately failed to win in the crucial swing state of Ohio.
Politifact has done their "Lie of the Year" contest for the past four years and notes that this is the first year the winning falsehood wasn't about health care. The finalists this year included President Obama's claim that Romney "backed a bill that outlaws all abortions, even in cases of rape and incest," as well as several other statements by both camps made during the election season.
The readers' choice results differ from Politifact's stated winner: 26% of poll takers agreed that Rush Limbaugh's claim that "Obamacare is…the largest tax increase in the history of the world" should have been considered the "Lie of the Year."
Read the full PolitiFact report here.
—
>> Follow Anjali Sareen (@AnjaliSareen) On Twitter
Have a tip we should know? tips@mediaite.com