Obama Wins And Romney Loses Public Perception With Responses To Embassy Attacks, According To Poll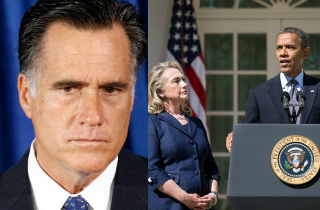 A Pew Center poll released Monday which surveyed reactions to the responses by both President Barack Obama and Republican presidential candidate Mitt Romney to the coordinated embassy attacks on 9/11/12 is raising eyebrows. The president is receiving high marks to his response to the attacks, with a plurality approving of his response. Romney, however, is receiving lower marks from the public.

RELATED: Chuck Todd: Middle East Crisis Could Be 'One Of Those Things That Derails The Election'
According to Pew, 43 percent of American adults have been closely following the attacks in the Middle East that targeted American embassies after protests erupted in response to an American film that insulted Islam.
Among those who followed the story closely, 45 percent approved of the president's handling of the situation while 36 percent disapproved of his response. Nearly half of respondents, 48 percent, disapproved of how Mitt Romney handled the crisis with only 26 percent saying that approved of his response.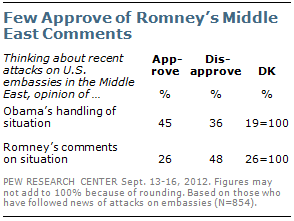 President Obama won this issue across all demographics; a plurality of adults across both age groups and genders approved of his response. A majority of those aged 18-29 and those with a college degree also approved. Even 11 percent of self-described Republicans said that they approved of Obama's handling of the crisis. Only 58 percent of Republicans and 23 percent of independents said that they approved of Romney's response.
Slightly more respondents said that they were following the attacks, 43 percent, than were following the 2012 presidential campaign, 42 percent.
This survey was taken of 1,001 adults from September 13 – 16. Margins of error vary per sample.
> >Follow Noah Rothman (@Noah_C_Rothman) on Twitter
Have a tip we should know? tips@mediaite.com