President Obama Accuses GOP Of 'Creating A Fictional Barack Obama' To Run Against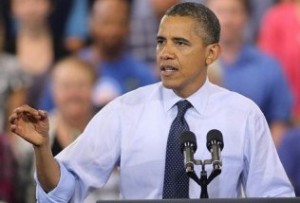 President Obama previewed this week's Democratic National Convention and criticized the Republicans for their convention in an interview with USA Today yesterday. Obama defended his attempts over the past four years to bridge the political divide and get things done, while marveling at how the Republicans have been strongly criticizing a "fictional" Obama over things the president has neither said nor done.
RELATED: Rush Limbaugh: 'Eastwood Succeeded In Getting Under Obama's Skin'
The President criticized Mitt Romney for not talking enough about what he will do for the American people as president, and responded to his Republican rival accusing the Democrats of engaging in a divisive, negative campaign.
"I would say that it's a little ironic for a candidate who won the primaries telling his opponents not to whine, who just had a convention that was primarily devoted to going after me in ways that every media outlet has said bend the truth, and whose entire campaign has been built around assertions that don't jibe with the facts — that he would want to spend most of his time talking about how tough we have been on him."
Obama also called out the Republican party for "creating a fictional Barack Obama" who the party is criticizing over welfare reform and small business.
The "fictional Obama" line of attack gained some traction after last Friday's episode of The Daily Show, when Jon Stewart mocked Clint Eastwood's speech by saying "there is a President Obama that only Republicans can see."
h/t USA Today
Have a tip we should know? [email protected]
Josh Feldman - Senior Editor