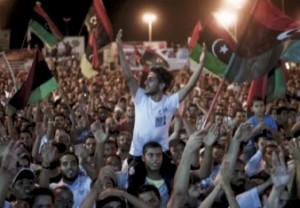 As he monitors the situation from Martha's Vineyard, President Obama has issued a statement on the unfolding situation in Libya, where rebels have captured much of Tripoli, and the Gaddafi regime appears to be collapsing. Following a conference call with senior advisers, the President called for Muammar Gaddafi to "acknowledge the reality that he no longer controls Libya," and to avoid further bloodshed by stepping down.
According to pool reports, the President led a Libya conference call from Valerie Jarrett's house in Oak Bluffs, after which Deputy Press Secretary Josh Earnest issued a statement:
Since this morning, the President has received regular updates from John Brennan about the situation in Libya.  Shortly after 9pm EDT tonight, the President conducted a conference call with senior members of his national security team who briefed him on the dramatic developments there.  The President asked that he continue to be updated as necessary and is scheduled to be briefed on this topic again tomorrow morning.
Minutes later, the President issued his own statement on Libya: (via email from The White House)
Tonight, the momentum against the Qadhafi regime has reached a tipping point. Tripoli is slipping from the grasp of a tyrant. The Qadhafi regime is showing signs of collapsing. The people of Libya are showing that the universal pursuit of dignity and freedom is far stronger than the iron fist of a dictator.

The surest way for the bloodshed to end is simple: Moammar Qadhafi and his regime need to recognize that their rule has come to an end. Qadhafi needs to acknowledge the reality that he no longer controls Libya. He needs to relinquish power once and for all. Meanwhile, the United States has recognized the Transitional National Council as the legitimate governing authority in Libya. At this pivotal and historic time, the TNC  should continue to demonstrate the leadership that is necessary to steer the country through a transition by respecting the rights of the people of Libya, avoiding civilian casualties, protecting the institutions of the Libyan state, and pursuing a transition to democracy that is just and inclusive for all of the people of Libya. A season of conflict must lead to one of peace.

The future of Libya is now in the hands of the Libyan people. Going forward, the United States will continue to stay in close coordination with the TNC. We will continue to insist that the basic rights of the Libyan people are respected. And we will continue to work with our allies and partners in the international community to protect the people of Libya, and to support a peaceful transition to democracy.
Participants in the President's conference call included Chief of Staff Daley, National Security Advisor Donilon, Secretary of Defense Panetta, Chairman of the Joint Chiefs Mullen, Vice Chairman of the Joint Chiefs Winnefeld Admiral Locklear, Commander, Allied Joint Forces Command Naples, Deputy Secretary of State Burns, DPNSA McDonough, John Brennan, Ben Rhodes, Brooke Anderson, Derek Chollet, Loren Schulman, and Jake Sullivan.
Have a tip we should know? tips@mediaite.com