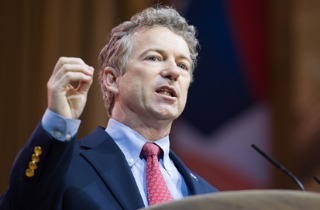 It was revealed on Sunday that Earl Holt, the white supremacist and leader of the Council of Conservative Citizens (CofCC), had donated thousands to the 2012 and 2016 GOP presidential campaigns of many prominent candidates. Why is this important? Because Holt's organization was praised in Charleston shooter Dylann Roof's online manifesto.
Immediately after the news broke, The Guardian contacted the campaigns for Ted Cruz, Rand Paul and Rick Santorum. They (and everyone else) wanted to know — if it were true, what were you going to do with the money?
"We will be immediately refunding the donation," Cruz's spokesperson Rick Tyler said in an email to the paper. After becoming aware of the initial story, the campaign conducted a "review" and "discovered that Mr. Holt did make a contribution."
"Senator Santorum does not condone or respect racist or hateful comments of any kind," campaign spokesperson Matthew Beynon told The Guardian. "The views the Senator campaigns on are his own and he is focused on uniting America, not dividing her." However, unlike Cruz, the former senator's camp didn't say anything about what it would be doing with the donated money. Or, for that matter, if they could do anything about it.
As for the senator from Kentucky, he plans on doing something slightly more flashy (and appreciated):
Rand Paul's camps says it will give donations from white supremacist Earl Holt III to the Mother Emanuel Hope Fund to help victims' families

— Sara Murray (@SaraMurray) June 22, 2015
There's been no response from Mitt Romney's people, though an official statement akin to Santorum's is most likely. That's because the brunt of the money the two men's campaigns received from the CofCC leader was back in 2012.
[h/t The Guardian, Twitter]
[Image via Shutterstock.com]
— —
>> Follow Andrew Husband (@AndrewHusband) on Twitter
Have a tip we should know? tips@mediaite.com