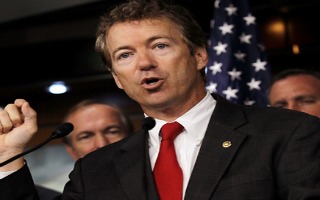 Sen. Rand Paul's (R-KY) visibility has been on the rise in recent weeks, leading many to speculate that the tea party favorite will follow in his father footsteps and make a run at the presidency in 2016. In a wide-ranging interview with USA Today published on Friday, Paul admitted that he is considering a bid for the White House.

RELATED: Rand Paul Says He'll Block CIA Nominee Until He 'Openly Responds' To Questions About Drones
"We're thinking about it," Paul told USA Today when asked about his presidential aspirations. "I do want to be part of the national debate. I want to be part of deciding what the Republican message is and who the Republican leaders are."
Having been elected to his first term in the Senate in 2010, Paul is up for his first reelection in 2016. The junior senator form Kentucky said that he is considering running for both the White House and for his Senate seat. "There probably is a way that could be done, but we haven't finalized any plans," Paul said.
He hopes to be able to move the GOP in a more libertarian direction in order to expand regions in which a Republican presidential candidate can be competitive.
"I think the Republican Party is in danger of becoming a permanent minority party if we keep going in the same direction we are going," Paul said. "We're no longer competitive on the West Coast or in New England, but I think we could be with a little more of a libertarian bent."
h/t The Blaze
> >Follow Noah Rothman (@NoahCRothman) on Twitter
Have a tip we should know? [email protected]