Rand Paul's Message To Obama: You're Bailing Out Detroit 'Over My Dead Body'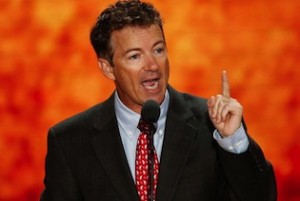 The city of Detroit filed for bankruptcy on Thursday, and as of this point it's not likely that they will get bailed out. But that didn't stop Senator Rand Paul from issuing a warning if the White House ends up pushing for one anyway. In an interview with Breitbart.com, Paul talks about how Detroit can learn from its financial mistakes, and declares that President Obama will bail out Detroit "over my dead body."
Paul told the site that "there's some good things that come out of bankruptcy," and argued why bailing out Detroit would be wasteful and unnecessary.
"Bankruptcy lets you be forgiven of your debt. And you do so by getting new management, better management, and by getting rid of unwieldy contracts, contracts that give you where public employees are getting paid twice what private employees are and things come back more to normal. That's the way cities and businesses can recover.

"I basically say he [Obama] is bailing them out over my dead body because we don't have any money in Washington."
And while the Obama administration has not made any indication it would back a bailout thus far, the administration's former "car czar" Steven Rattner recommended one on MSNBC's Morning Joe early today.
Paul likened the situation with Detroit to "too big to fail" banks, arguing that when you have banks or entire cities that operate that way, "they believe they'll be bailed out they'll continue to make unwise decisions."
—–
Follow Josh Feldman on Twitter: @feldmaniac
Have a tip we should know? tips@mediaite.com
Josh Feldman - Senior Editor