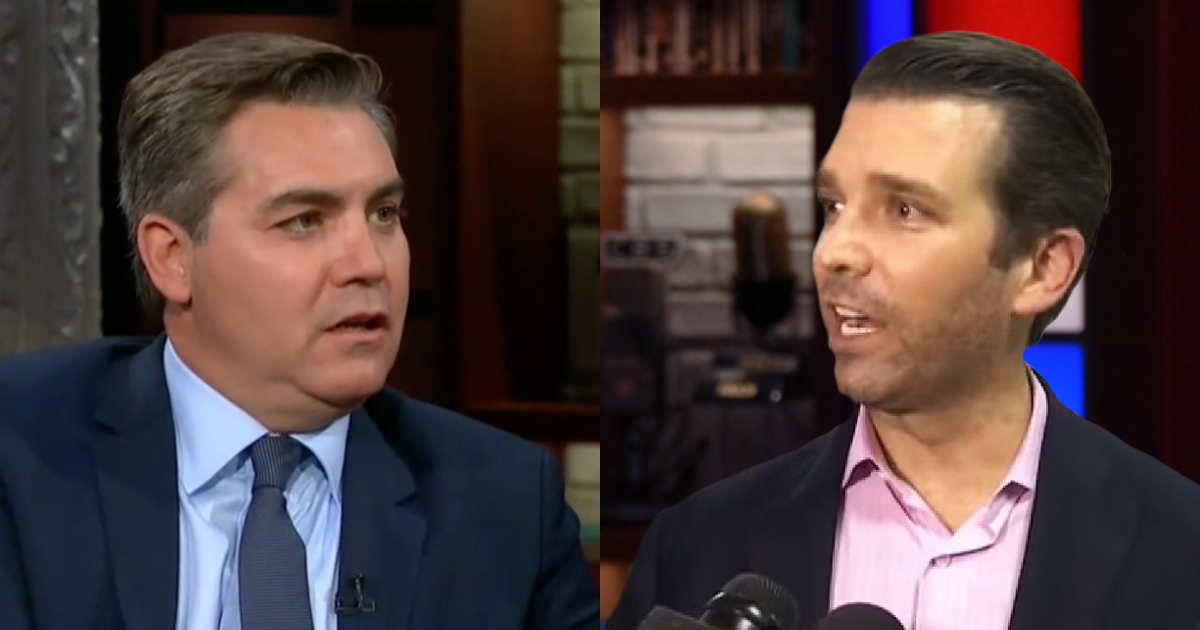 On Thursday, CNN's Jim Acosta stepped on a Twitter landmine at the southern border when he observed the peace and tranquility at the site of a steel barrier, inviting the obvious response from hundreds of people that that's what the barrier is for. Among the respondents, Donald Trump Jr.'s reply prompted a back-and-forth with the once-banned White House correspondent.
First, if you haven't read the original tweets and replies in this article (but you should),the one that got the most attentionm and Jr.'s response, said "I found some steel slats down on the border. But I don't see anything resembling a national emergency situation," and included a video.
Here is Trump the younger's reply, a quote retweet.
Of course you don't Jim. That's because walls work. Thanks for your help proving @realDonaldTrump's point and simultaneously creating one of the best self-own videos ever!!! https://t.co/QVXsJTwFh8

— Donald Trump Jr. (@DonaldJTrumpJr) January 10, 2019
This was the essential logic of most of the responses to Acosta's initial tweet. In other words, that one sees no national emergency because of the barrier, not despite it.
In Trump Jr's case, the CNN lightning rod responded with his own quote retweet.
It's a little strange Don. You guys seem to be saying the current measures in place are working. Does that mean your dad should reopen the government and get federal employees back to work? #byebye https://t.co/UY0NMye8BO

— Jim Acosta (@Acosta) January 10, 2019
This is also, on the surface, a logical reply. He's essentially saying that Trump Jr. is admitting to Acosta's own first premise that there isn't "anything resembling a national emergency situation." It does, however, miss the idea that the border is bigger than a single location. As conservative talk radio host and author Erick Erickson joined in to point out.
Current measures are working. Thanks for pointing that out @Acosta. That's why we should expand the current measures because…guess what…they don't work in areas they don't exist. https://t.co/fj1T21xlry

— Erick Erickson (@EWErickson) January 10, 2019
Still, the polarizing figures Jim Acosta and Donald Trump Jr. each have at least partly correct points. A circumstance which was written about by Nostradamus, I believe. Or maybe it was this guy.
—
UPDATE: Donald Trump Jr. responds further.
I know this might be hard for you to comprehend Jimbo, but the reason why all of Twitter has been mocking you today is because you were at a part of the border WITH A WALL. So yes, of course it was working. Replicate that across the border & we'll all be safer. #RealNews #ByeBye https://t.co/BtdJ3GcxSV

— Donald Trump Jr. (@DonaldJTrumpJr) January 10, 2019
[Featured image via screengrab]
—
Follow Caleb Howe (@CalebHowe) on Twitter
Have a tip we should know? tips@mediaite.com