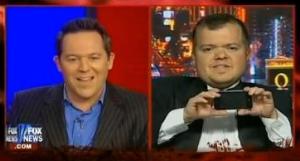 Our little brother Geekosystem has been all over the release of Apple's new iPad – as have many others in media.
Well Fox News' late night comedy/news show Red Eye conducted their review Friday night – and it probably ranked as the most politically incorrect review in the last few weeks.
"Red Eye's longtime tech correspondent, Donnie Davis," was interviewed by host Greg Gutfeld. His overall take: "It's small, it's compact, it's very user friendly, especially for a person like me."
"A lot of shows couldn't get the iPad before it came out, but Red Eye, we were one of the few," said Gutfeld after the interview.
But it took ombudsman Andy Levy to set Gutfeld straight about what just happened during the halftime report:
Levy: That review segment of the iPad with our tech correspondent, we don't have a tech correspondent and that wasn't an iPad. That was a little person with either an iPhone or iTouch, Greg.
Gutfeld: I don't believe that's true. I would have noticed something like that.
Levy: You've been punked.
The joke calls to mind another experience from Gutfeld's past – as editor of Stuff he "hired several little people to cause a commotion and create buzz at the 2003 Magazine Publishers of America conference."
The interview goes to show that whatever you might see on Fox News at 6amET or later is nothing like what's on the network three hours earlier. It's FNC's elbow in the side of political correctness.
Here's the 'iPad review':

—–
» Follow Steve Krakauer on Twitter
Have a tip we should know? tips@mediaite.com