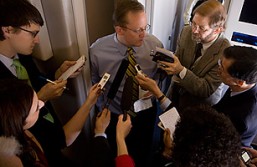 Why is everyone so determined to kill the White House Press Corps? Last year Ana Marie Cox wrote a much-passed-around op-ed calling for the dismissal of the group altogether. Cox argued that all too often "the White House briefing room is where news goes to die." Ouch. Now Lloyd Grove at the Daily Beast is taking aim wondering whether "the White House press corps teetering (possibly tweeting) on the brink of obsolescence?"
If so it may be the longest death throe in history. The crux of the problem, naturally, is the Internet. It is providing the President with far too many ways to circumvent the fourth estate. Says Grove:
At the very moment that social media and enhanced technology are proliferating and gaining audience share by the tens of millions, giving President Obama powerful interactive tools to communicate directly with the public, the old media are in a world of hurt.
Uh huh. Get in line? What Grove, and the number of reporters he talks to, including Mark Knoller (who does not RT Robert Gibbs: "I rewrite them and I put them in context, because it's not my job to give him access to all of my followers.") and Jake Tapper (who does not like the White House flickr stream: "That's not photojournalism; it's hagiography.") fail to note is how much more relevant this same technology has made them. UPDATE: Tapper writes to clarify: "I have no problem with the WH flickr feed and I like all the behind-the-scenes shots. What I don't like is WH photojournalists being blocked from attending, say, a bill signing, with the WH arguing its official photograph is the same thing."
Point being, how many out there were aware of Knoller pre-Twitter? Not that many I (sadly) bet. Same goes for Tapper, but to a much larger extent since I would be more than willing to bet Tapper slid (temporarily) into the This Week chair based on primarily on his online presence. Which is growing thanks to the very smart decision live-tweeting of show he has initiated in the last few weeks. Other morning hosts should be taking note.
If anything, I would argue that the Internet has made the White House Press Corps more relevant. Now the public has access to real time eyes and ears in a way that was impossible prior to the advent of Twitter. There is nothing irrelevant about that. In fact, I've always suspected it's the White House that spends a lot of time scrambling to keep up.
Have a tip we should know? tips@mediaite.com