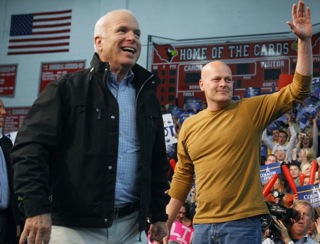 Three years can be a lifetime in politics, but for one happenstance celebrity from the 2008 campaign, it may have been all the time he needed to marinate a Congressional run. Ohio's Toledo Blade is reporting that Samuel Wurzelbacher, a contractor's assistant turned motivational speaker dubbed "Joe the Plumber" during the Presidential campaign, may be plotting a political comeback as a Republican Congressional candidate against incumbent Rep. Marcy Kaptur.
While Wurzelbacher has mostly remained out of the spotlight for the past several years, it appears the Lucas County Republican Party in Ohio has its eye on him to take out the incumbent, who won reelection with 59% of the vote in 2010 and has been in her seat since 1983. The chairman of the county party, Jon Stainbrook, had nothing but effusive praise for Wurzelbacher, noting that the national party had a "high-level interest" in the former unlicensed plumber, but that he had not made any decision on the matter. According to the paper, one source gave Wurzelbacher a 90% chance of throwing his hat into the ring. Meanwhile, the candidate himself said only that it was an "interesting idea."
So what has made Wurzelbacher, a media obsession during the last election cycle, so attractive to a segment of his local Republican Party? Stainbrook argued that it was his star power that made him a "fantastic candidate." "He goes hunting with Sarah Palin. He's friends with Ann Coulter," Stainbrook argued, making the point that such connections would guarantee him a good place in fundraising. As Wurzelbacher has remained as coy about a Congressional run as his hunting buddy has been on a presidential bid, this one is still in the works, though could offer some entertaining political theater in the months to come.
[h/t]
Have a tip we should know? tips@mediaite.com