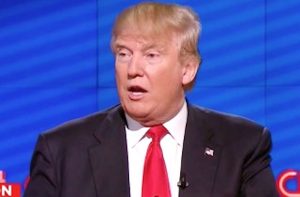 With the looming fact that Donald Trump will become commander-in-chief in a few short months, intelligence officials are fearful of disclosing the nation's most closely guarded secrets to a man who repeatedly demonstrated an impulsive temperament and plays loose with the facts and the law, according to the Washington Post.
Greg Miller reports:
At some point today, a sober team of analysts will gather their black satchels and secure communications gear and begin making their way toward Donald Trump's campaign headquarters to give the president-elect his first unfiltered look at the nation's intelligence secrets.
Miller describes the cloud that has settled over the intelligence community as a "palpable sense of dread." Intelligence officials are alarmed by his past promises to kill the families of terrorists and to reinstitute illegal torture techniques such as waterboarding or worse, his assertion that he knows more than generals do, his friendly overtures to Russia, which many see as a hostile actor.
"It's fear of the unknown," said a senior U.S. national security official. "We don't know what he's really like under all the talk. . . . How will that play out over the next four years or even the next few months? I don't know if there is going to be a tidal wave of departures of people who were going to stay around to help Hillary's team, but are now going to be, 'I'm out of here.' "
"I cannot remember another president-elect who has been so dismissive of intelligence received during a campaign or so suspicious of the quality and honesty of the intelligence he was about to receive," former CIA director Michael Hayden told the Post. Hayden was one of 50 top Republican national security officials to denounce Trump in an open letter in August.
After Trump clinched the nomination in July, Miller reported that intelligence officials were wary of giving Trump the limited briefings that presidential candidates receive. "He's been so uninterested in the truth and so reckless with it when he sees it," one senior official said in July.
Have a tip we should know? tips@mediaite.com