Reporter Majorly Side-eyes WH Spox for Not Asking Obama About Black West Point Cadets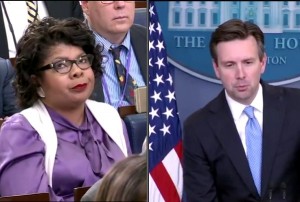 On Tuesday evening, 16 black female West Point cadets who posed for a photo with raised fists were cleared of violating Army policy, but the academy still deemed the photo "inappropriate." At Wednesday's White House daily briefing, American Urban Radio Network's April Ryan asked Press Secretary Josh Earnest if President Obama had seen the photo, the third consecutive day he has been asked this, and whether the President had any reaction to the controversy or the conclusion. Earnest's response elicited visible frustration from Ryan:
I haven't spoken to him about the picture, but I did see the news reports about the decision that was made by officials at West Point. I'm confident that the President would not second-guess the decision by those who are responsible for discipline at West Point.
The frustration April Ryan evinced is a common one for White House reporters, because it seems like press secretaries must go out of their way to avoid discussing certain topics with the President just so they can say they didn't discuss it with him.
In this case, it's particularly frustrating because, unless the President specifically makes himself available to April Ryan, she's never going to get an answer to this question, and it's a good question. The "controversy" around the picture involves whether the apparent show of pride and unity, black or otherwise, constituted "divisive" and "political" expression, and while West Point concluded it did not, they also called the photo "inappropriate":
"While the inquiry did not find that these cadets violated a policy or regulation, it did determine that they demonstrated a lapse of awareness in how symbols and gestures can be misinterpreted and cause division," West Point Superintendent Lt. Gen. Robert Caslen wrote in a letter Tuesday to the Corps of Cadets. "The impact of this photo, regardless of its intent, is evident. It is unfortunate that this perception brought attention to our Alma Mater for all the wrong reasons."
This admonition comes just days after the Commander-in-Chief of the armed forces, President Barack Obama, told graduates at Howard University to "be confident in your blackness." The West Point statement makes clear that even the appearance of confidence in blackness constitutes divisiveness. Despite Earnest's assurances, there's every chance that April Ryan could have drawn an insightful, or at least meaningful, response were that issue to be raised with the President.
Have a tip we should know? tips@mediaite.com