Republicans Are Going Nuclear Ripping Cruz Apart Over Trump Non-Endorsement
Ted Cruz refused to endorse Donald Trump tonight and was booed for it. Right afterwards, Republicans––to put it bluntly––lost their fucking minds.
Firstly, Heidi Cruz got yelled at as she was walking out of the room:
Angry Ken Cuccinelli escorting Heidi Cruz out as Trump supporters yell at her pic.twitter.com/G6USuhoSx2

— Graham Moomaw (@gmoomaw) July 21, 2016
From @mkraju :: "Heidi Cruz escorted out by security as crowd gets very angry"

— Dylan Byers (@DylanByers) July 21, 2016
Trump supporter screams "Goldman Sachs" at Heidi Cruz as she departs convention floor after Cruz" speech got angry response from delegates

— Deirdre Walsh (@deirdrewalshcnn) July 21, 2016
Obviously, the Trump family wasn't particularly happy about all this:
This was the look on the Trump's faces when Cruz was speaking pic.twitter.com/YHmxSqRf7Z

— Hunter Schwarz (@hunterschwarz) July 21, 2016
Though according to one report, their campaign was behind some of the booing:
Two sources tell me Trump team actively whipped the "boos" at the end of Cruz speech

— Zeke Miller (@ZekeJMiller) July 21, 2016
But if you want an idea of just how angry Republicans were, someone had to be physically restrained from lashing out at him:
Source tells @DanaBashCNN behind the scenes people called Cruz "a disgrace" to his face. One state chairman had to be held back

— Steve Brusk (@stevebruskCNN) July 21, 2016
And the floodgates immediately opened:
BREAKING: Sources with the RNC say @Tedcruz speech was 'classless.' Party officials expected him to congratulate @realDonaldTrump.

— Bill Hemmer (@BillHemmer) July 21, 2016

(For the record, Cruz did congratulate Trump at the top.)
That was the single most selfish act in American politics since Aaron Burr aimed at Alexander Hamilton. #RNCinCLE & America leave him behind

— Joel B. Pollak (@joelpollak) July 21, 2016
Roger Stone, walking out of convention center, tells me Ted Cruz is a "dumb son of a bitch who thinks he's smarter than everybody else."

— Pete Schroeder (@peteschroeder) July 21, 2016
Tonight, Ted Cruz proved how self-focused he is….he is NOT the future of the party.

— Richard Grenell (@RichardGrenell) July 21, 2016
Cruz is done. Too self-serving and calculating.

— Richard Grenell (@RichardGrenell) July 21, 2016
Just spoke to a source who says witnessed the head of the WA delegation go "bananas" on Cruz and call him a traitor

— Rosie Gray (@RosieGray) July 21, 2016
Sen Cruz….sorry, bud. But, no class not to endorse Trump. Tired of all the phony Conservatives in DC.#politics #government #DC

— Kevin Sorbo (@ksorbs) July 21, 2016
Ask a couple Ohio Republicans about the Cruz speech. "Oh, fuck Cruz." Other guy calls speech "disgusting."

— DENALI (@timothypmurphy) July 21, 2016
JUST IN: Rep. Peter King lambasts Ted Cruz after Cruz's #RNCinCLE speech: "He's a total fraud" — @HallieJackson https://t.co/ZJnYqwPVNx

— NBC Nightly News (@NBCNightlyNews) July 21, 2016
WATCH: Gov. Christie on Ted Cruz: "Awful, selfish speech … showed himself tonight to not be a man of his word." https://t.co/jjvRlWX3Wf

— NBC Nightly News (@NBCNightlyNews) July 21, 2016
Not only did @tedcruz not endorse Trump. He "unendorsed" him.

Selfish ass.

— Joe Walsh (@WalshFreedom) July 21, 2016
1976: Ronald Reagan embraces nominee Gerald Ford.

2016: Ted Cruz stabs nominee Donald Trump.

Cruz ain't Reagan.

— Joe Walsh (@WalshFreedom) July 21, 2016
But, y'know, there's also this:
Ted Cruz didn't endorse the guy who called him a Canadian with an ugly wife whose dad killed JFK.

TRAITOR!!!#NeverTrump

— Jim Treacher (@jtLOL) July 21, 2016
And, for the record, Team Trump saw the transcript ahead of time.
And, wouldn't you know it, Hillary Clinton is already on top of this:
Vote your conscience. https://t.co/xahMq2sU1q

— Hillary Clinton (@HillaryClinton) July 21, 2016
UPDATE –– 11:41 pm EDT: This is the lead on Drudge right now: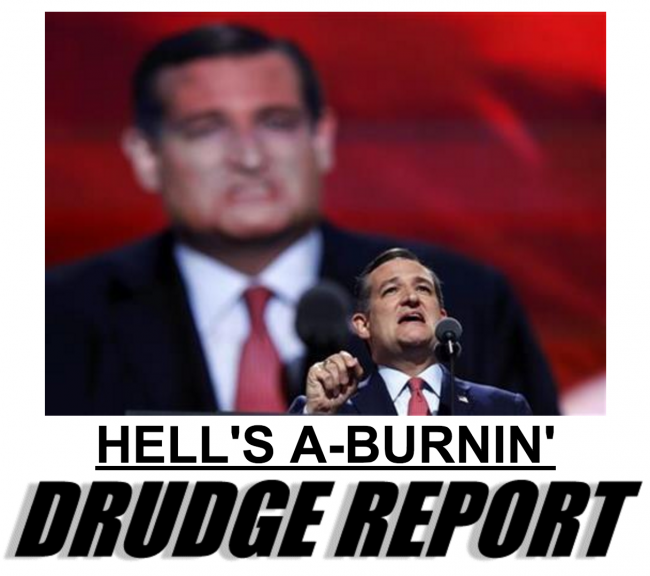 [image via screengrab]
— —
Follow Josh Feldman on Twitter: @feldmaniac
Have a tip we should know? tips@mediaite.com
Josh Feldman - Senior Editor