Right-Wing Host Thinks Chelsea Clinton May Have 'Staged' Pregnancy to Help Hillary (UPDATED)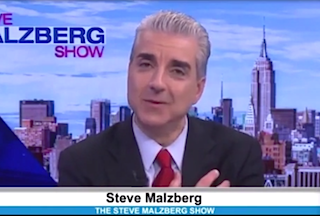 If you thought the Hillary Clinton "shoe truthers" were bad, wait until you meet the "baby truthers." So far, conservative host Steve Malzberg is leading the charge with this video suggesting Chelsea Clinton's pregnancy is being effectively "staged" to help her mother win the 2016 presidential election.
And excited Malzberg announced the 34-year-old Clinton's pregnancy, saying, "Lo and behold, Hillary was by her side" when she made the announcement. "Hillary Clinton is going to be a grandmother when she runs for president!" he exclaimed.
"Now, pardon the skeptic in me," Malzberg continued, before predicting the oncoming criticism from Media Matters and other watchdog website. "Malzberg said this was a staged, planned pregnancy?" he imagined they would ask.
RELATED: Every Media Outlet: Hillary Grandkid the Most Consequential Baby Since Jesus
"Well, now I'm not saying, when I say staged I have to believe she's pregnant, if she says she's pregnant," he said. "I don't mean that they're making up she's pregnant. But what great timing! I mean purely accidental, purely an act of nature, purely just left up to God."
"And God answered Hillary Clinton's prayers and she's going to have the prop of being a new grandma while she runs for president," he continued. "It just warms the heart, it brings a tear to my eye. It really does."
Typically, a pregnancy for someone like Chelsea Clinton, who has been married to husband Marc Mezvinsky for almost four years would not be viewed as "purely accidental," as Malzberg deemed it to be. But there's a big difference between a "planned" pregnancy and a "staged" one intended to help your mother gain some sort of grandmotherly sympathy from voters.
— —
UPDATE 04/20/14: Ken Chandler, Executive Editor of Newsmax sent the following statement to Mediaite:
"Steve Malzberg's comments were intended to be humorous not hurtful. They were clearly inappropriate and do not reflect the views of Newsmax."
— —
Watch video below, via Newsmax:
[h/t RWW]
[photo via Andrew Kelly/Reuters]
— —
>> Follow Matt Wilstein (@TheMattWilstein) on Twitter
Have a tip we should know? tips@mediaite.com