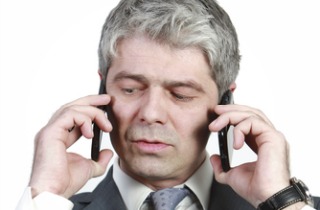 During oral arguments today over a case to decide the right of police officers to search cell phones without a warrant, both Supreme Court Justices John Roberts and Antonin Scalia expressed surprise that there are law-abiding people in the world who own more than one cell phone, which occasionally happens with people who like to have a home phone and a work phone.


The discussion in court was about exigent circumstances in which it would be appropriate for the police to go through somebody's cell phone. And then this exchange happened.
CHIEF JUSTICE ROBERTS: It's not a bomb, but this a different case. This is somebody in an area selling drugs where the police have told us they typically use cell phones to arrange the deals and the transfers, and this guy is caught with two cell phones. Why would he have two cell phones?

MS. MIZNER: Many people have more than –– have multiple cell phones. I –– there was no ––

CHIEF JUSTICE ROBERTS: Really? What is –– what is your authority for the statement that many people have multiple cell phones on their person?

MS. MIZNER: Just observation. But ––

JUSTICE SCALIA: You've observed different people from the people that I've observed.

(Laughter.)

MS. MIZNER: That's probably true.

CHIEF JUSTICE ROBERTS: Particularly since they're in their pockets, right?
In a totally unrelated story, as of last August the Supreme Court Justices weren't using e-mail just quite yet.
[h/t Daily Intelligencer]
[image via Shutterstock]
— —
Follow Josh Feldman on Twitter: @feldmaniac
Have a tip we should know? tips@mediaite.com
Josh Feldman - Senior Editor