Roger Ailes Dismisses Backlash To 'Lazy' Obama Comments, Fires Back At 'Communist Infiltrator' Van Jones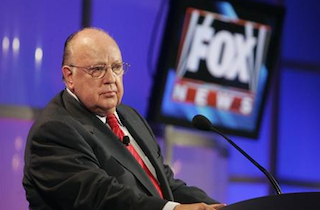 Fox News chief Roger Ailes made headlines when an excerpt from an upcoming biography included quotes of him deeming President Obama "lazy," Vice President Joe Biden "dumb as an ashtray," and Newt Gingrich a "prick." In an interview with Howard Kurtz on The Daily Beast, Ailes said he's not backing away from the statements for one simple reason: They're "true."
RELATED: Roger Ailes In New Biography: Newt Gingrich Is 'A Prick' And Biden Is 'Dumb As An Ashtray'
"Are every one of those statements true? Yes," Ailes told Kurtz. "Should I have said them? Well, that's a debate."
When Ailes saw his remarks printed, he "looked at it and thought, someone's made outrageous statements about our leaders, and that someone sounded like me." But he also went on to respond to some of the criticism.
First, about the Biden remark, Ailes said his comments aren't usually entirely earnest: "Anybody who knows me knows that half the time I'm saying things with a somewhat humorous overtone."
He had stronger words, however, for Van Jones, who found the comment about Obama's laziness to be racially charged. "I don't pay a lot of attention to communist infiltrators," Ailes fired back. "Van Jones has one job, to stir up racism whether he can find it or not."
Jones has long since acknowledged saying in the early 1990s, when he was in his 20s, that he was a communist. Ailes acknowledged to me that the CNN contributor has moved away from that self-description.

Asked for comment, Jones says: "Ludicrous name calling from the 1950s playbook doesn't change the facts. People are tired of hearing 'lazy Negro' stereotypes about a president who has worked so hard that his hair has turned white."
Elsewhere in the interview, Ailes talked about the media's handling of Sarah Palin as well as biographer Zev Chafets, whom he picked.
Read the piece here.
Have a tip we should know? tips@mediaite.com