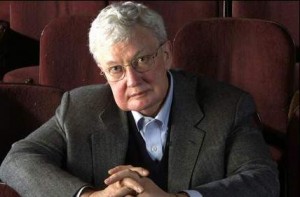 Film critic Roger Ebert weighed in on the Colorado shooting tragedy in a New York Times op-ed today with a unique perspective on the connection between American pop culture and gun violence. He suggested that James Holmes had a deep insecurity and "cared deeply about seeing himself on the news." Ebert also used his column to call for politicians to join together and put a renewed sense of purpose into pursuing stronger gun control laws.
RELATED: CNN Guest Rushes To Blame Video Games For CO Shooting: 'Teenaged Psychopaths Get Inspired'
Ebert first gave his thoughts on why Holmes did what he did and why he chose to do it at the premiere of The Dark Knight Rises.
"Like many whose misery is reflected in violence, he may simply have been drawn to a highly publicized event with a big crowd. In cynical terms, he was seeking a publicity tie-in…

"I'm not sure there is an easy link between movies and gun violence. I think the link is between the violence and the publicity. Those like James Holmes, who feel the need to arm themselves, may also feel a deep, inchoate insecurity and a need for validation. Whenever a tragedy like this takes place, it is assigned catchphrases and theme music, and the same fragmentary TV footage of the shooter is cycled again and again. Somewhere in the night, among those watching, will be another angry, aggrieved loner who is uncoiling toward action. The cinematic prototype is Travis Bickle of "Taxi Driver." I don't know if James Holmes cared deeply about Batman. I suspect he cared deeply about seeing himself on the news."
Ebert then questioned how someone like Holmes who was able to acquire "guns, ammunition and explosives." He said that U.S. gun laws are "insane" and criticized the gun lobby while calling on Washington to use the opportunity to address gun control in a meaningful way.
"[T]he endless gun control debate will begin again, and the lobbyists of the National Rifle Association will go to work, and the op-ed thinkers will have their usual thoughts, and the right wing will issue alarms, and nothing will change. And there will be another mass murder…

"This would be an excellent time for our political parties to join together in calling for restrictions on the sale and possession of deadly weapons. That is unlikely, because the issue has become so closely linked to paranoid fantasies about a federal takeover of personal liberties that many politicians feel they cannot afford to advocate gun control."
Read the full piece here.
—–
Follow Josh Feldman on Twitter: @feldmaniac
Have a tip we should know? tips@mediaite.com
Josh Feldman - Senior Editor