Romney Responds To Obama Campaign Blaming Him For Politicizing Libya Attacks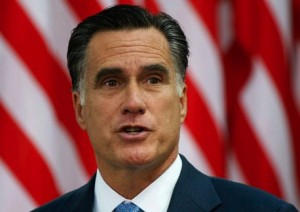 On the campaign trail today, Mitt Romney responded to an accusation leveled by Obama deputy campaign manager Stephanie Cutter that the politicization of the violence in Libya "is because of Mitt Romney and Paul Ryan." Romney shot back, saying that it has become politicized because of the administration's muddled response to a terrorist attack on a United States consulate.
RELATED: Stephanie Cutter Grilled By Bret Baier Over Claim 'Entire Reason' Libya A 'Political Topic' Is Romney
Romney found it unbelievable that the Obama campaign would accuse him of making the violence political, turning the tables on the White House and saying it started becoming an issue after the assassination of ambassador Christopher Stevens.
"Mr. President, this is an issue because we were attacked successfully by terrorists on the anniversary of 9/11… President Obama, this is an issue because Americans wonder why it was it took so long for you to admit that this was a terrorist attack."
The Obama campaign immediately responded to Romney, emphasizing the president's desire to get the facts from the very beginning, and continued to insist that Romney has been politicizing the tragedy to his advantage. Spokeswoman Liz Smith added that Romney has "failed miserably" every time has tried to proven himself in matters of foreign policy.
Romney's immediate reaction to the attacks in Egypt in Libya last month were widely criticized as needlessly political, but this far removed from the Republican candidate's remarks, the focus is now on the Obama administration and the increasingly mixed messages that emerged in the past few weeks. The Democratic campaign needs to accept that the narrative has changed, and with everyone from Jake Tapper to Jon Stewart raising eyebrows their response, the campaign needs to come up with a stronger defense than "But the other guy's being a dick about it!"
[Image via]
—–
Follow Josh Feldman on Twitter: @feldmaniac
Have a tip we should know? tips@mediaite.com
Josh Feldman - Senior Editor