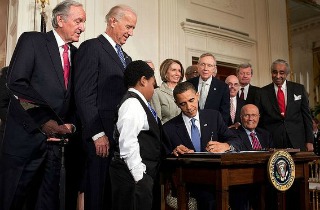 Negligence? Absolutely. Incompetence? The case can be made. But scandalous? To suggest that the White House has willfully engaged in the intentional misleading of the public and an outrageous dereliction of its responsibilities to enforce the laws passed by Congress has been a bridge too far. Until recently. New revelations are now forcing even the most reluctant of President Barack Obama's critics to concede that the Affordable Care Act's implementation has evolved into a scandal.

"I was not informed directly that the website would not be working, as the way it was supposed to," Obama told reporters on November 14. "Had I been informed I wouldn't be going out saying, 'boy, this is going to be great.'"
"You know, I'm accused of a lot of things but I don't think I'm stupid enough to go around saying this is going to be like shopping on Amazon or Travelocity a week before the website opens if I thought that it wasn't going to work," the president continued.
While the president may have been telling the truth – that he was not "informed directly" that the ACA exchanges web portal would not function on its October 1 launch date – recently uncovered details of the ACA website's design and construction phase indicate that members of his cabinet were.
A report which surfaced in the Washington Post as a result of the work done by congressional investigators shows officials with the Centers for Medicare & Medicaid Services and Department of Health and Human Services, including Sec. Kathleen Sebelius, were informed of the scale of the problems plaguing the website's construction as early as April.
The president's credibility has already been gravely, possibly irreparably, damaged by the unraveling of his oft-repeated promise that anyone with health insurance would be able to keep those plans if they liked them. It has already been shown that the president was informed as early as February of 2010 that the law would, indeed, force people off their current plans. But a report which surfaced on Monday night indicated that the president's own Justice Department authored a brief in October showed that most of the country's insured will have to seek new plans.
Even under the grandfathering provision, it is projected that … a majority of group health plans will have lost their grandfather status by the end of 2013.
"This shows us that they never thought the grandfather clause was real in the first place," National Review contributing editor Andrew McCarthy told Fox News Channel's Megyn Kelly on Monday.
Already, the president has taken measures which many consider unconstitutional abuses of authority in order to adapt the law with the aim of pacifying constituencies and curbing the immediately painful consequences of the ACA's implementation.
As political analyst Michael Barone observed on Tuesday, the White House unilaterally delayed the employer mandate to comport with the law's health insurance requirements in July and waived income verification requirements designed to determine who should receive subsidies. On both occasions, the president flagrantly refused to enforce the provisions of his own signature legislative achievement.
And now, POLITICO reports, the president is preparing to ignore yet another of the law's provisions. This time, the inconvenient stipulation to be conspicuously overlooked is one which would reimburse health insurance providers for losses they incur as a result of extending coverage to millions of low-income uninsured. As POLITICO declares in their headline, Obama told insurance companies that there is "no bailout" in store for them. There is just one problem, as POLITICO concedes in the 11th paragraph of this report, the White House is preparing to do the exact opposite of what their headline suggests.
"To address the industry concerns about additional costs if they revive the canceled plans, administration officials said last week they would tweak one of those tools — called 'risk corridors' — to give them more help," POLITICO reports. "But Obama made clear that the financial support has a limit, according to the two health executives and several other industry sources who were briefed on the meeting."
Not adjusting "risk corridors," as Talking Points Memo's Sahil Kapur reports, would be the path of least political resistance – Americans have no taste for another bailout of a private industry, particularly one that incurs its losses as a result of complying with federal regulations. But to not provide those adjustments would likely force some insurers out of the exchange marketplace, making insurance provided by those companies that are still in the marketplace more expensive and, thus, threatening the financial viability of the ACA. This would hasten the onset of the "death spiral" effect.
Already, the administration's short-term risk mitigation strategy has made a bailout for insurance providers more likely. By allowing some insurance providers the option of refusing to comply with the ACA's coverage mandates and allowing those who lost their noncompliant plans to regain them, some states will have risk pools that are simply riskier and, thus, more expensive for non-subsidized insured.
To call all of this a disaster is too kind. This is a debacle of virtually unprecedented proportions. Last week, National Review's Charles C. W. Cooke attempted to identify a historical parallel to add perspective to the ACA roll-out catastrophe. He cited prohibition and the National Recovery Administration as examples of policy failures that could inform the discussion about the potentially epic scale of the present fiasco. It is clear today that Cooke was being overly deferential to history. There are no accurate historical comparisons to the ACA. We are entering uncharted waters.
[Photo via Pete Souza/White House]
— —
> >Follow Noah Rothman (@NoahCRothman) on Twitter
Have a tip we should know? tips@mediaite.com