Rothman: NYC Mayor Bill de Blasio's Culture of Intimidation
Rothman: NYC Mayor Bill de Blasio's Culture of Intimidation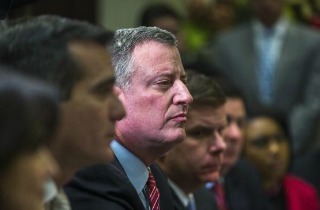 New York City's changing of the guard is complete and citizens of the cultural capital of America awoke on Wednesday morning to a disturbing revelation: Theirs is now a city run by a mayor bent on political vengeance against his perceived enemies.
The wailing of the kulak class began shortly after the sun set on Tuesday evening as a powerful snowstorm bore down on the city. With powdery flakes pouring down at almost an inch an hour, the city's public services slowed to a crawl. It was then, apparently, that the most important function of a city's government during such a powerful weather event, street plowing, became the preferred tool of retribution against newly-minted Mayor Bill de Blasio's political foes.
"Huge swaths of the city's wealthiest neighborhood had been not been plowed by early Tuesday evening, leaving 1-percenters out in the cold, according to the city's own map of snow-plower activity," the New York Post reported.
"He is trying to get us back. He is very divisive and political," Upper East Side resident and mother Molly Jong Fast told Post reporters.
There is more than merely one individual's perception to support this damning charge.
The Daily Beast's Brian Ries noted at 4:23 p.m. on Tuesday evening as the snow began to fall at an overwhelming pace that the Upper East Side had been conspicuously avoided by city plows. Is it merely a coincidence, then, that the Upper East Side was the portion of the city where de Blasio's chief rival for the Democratic mayoral nomination in 2013 performed the strongest?
In fact, an overlay of the areas that had not been plowed (left) with areas of the city where former City Council Speaker Christine Quinn performed strongest (right) makes the connection almost impossible to ignore.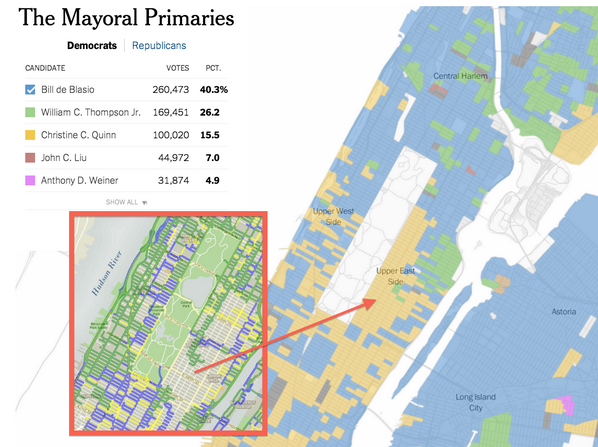 This behavior would be consistent with de Blasio's campaign rhetoric which rallied New Yorkers n the city's outer boroughs against the affluent residents of Manhattan. It was time, his supporters believed, to even the score against the city's wealthiest residents who had it too good for too long.
Why, you ask, would a popular public official who had just been elected by an overwhelming majority of his constituents engage in such sloppy and petty strong-arm tactics? Who knows? But the circumstantial evidence is enough to confirm the suspicions of those already predisposed to view de Blasio as a threat to all that is good and decent in politics.
Of course, this charge is so thin that it does not merit much serious thought. In fact, the implication above verges on the criminal and should lead cautious analysts to demand evidence sufficient to prove this wild charge. The burden of proof for a claim of that magnitude is especially high.
We engaged in this thought experiment in order to provide some much needed perspective, particularly to the extraordinarily credulous coverage Hoboken Mayor Dawn Zimmer has received after she produced a handwritten diary detailing her feelings as proof that Gov. Chris Christie's administration threatened to withhold taxpayer disaster relief aid unless she fast-tracked a development project.
That charge is serious, even potentially criminal. Extraordinary claims demand extraordinary evidence to support them, evidence which has thus far not been produced. It is foolish to suggest that de Blasio sought to punish his political adversaries in such a ham-handed fashion even though the circumstantial evidence to support this charge does exist. Why, then, does he deserve the benefit of the doubt when Christie does not?
[Photo via Jim lo Scalzo/EPA]
— —
> >Follow Noah Rothman (@NoahCRothman) on Twitter
Have a tip we should know? tips@mediaite.com