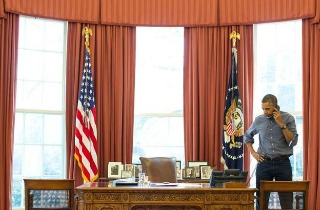 "This is my last election," President Barack Obama told then Russian President Dmitry Medvedev in March of 2012. "After my election I have more flexibility."
"I understand your message about space," Medvedev acknowledged. "I will transmit this information to Vladimir."
Message received. Though Obama's communication about "space" may have lost something in that transmission process. While the president was likely referring to his own freedom of action, Moscow appears to be acting on the understanding that their own "space" would be unencumbered in Obama's second term.
With minimal bloodshed, Moscow's destabilization and soft absorption of eastern and southern Ukraine is nearly complete. After pulling off the coup of the first unilateral invasion and annexation of European territory since Anschluss, Putin is overseeing the disintegration of Little Russia.
Act two is already underway. Putin has already set his sights on the next state targeted for reintegration into the resurrected Soviet sphere.
"After Sunday's elections in Ukraine, Vladimir Putin may turn his attention westward toward Moldova, where Russia is sending spies, beaming in propaganda—and threatening economic strangulation," The Daily Beast's Josh Rogin reported on Friday. "It's all part of an effort to help the Communists there defeat the Liberal Democratic government."
With a sliver of Moldovan land on the eastern bank of the Dniester already functionally occupied by Russian forces, Russia is moving to destabilize the rest of the country. Appealing to a combination of forces ranging from economic and political pressure to the Maskirovka Russia used to great effect in Ukraine, Chisinau looks to be the next domino to fall.
But Russia's revanchism is not merely limited to the European theater. Demonstrating that Moscow's new freedom of action extends to Asia as well, Putin traveled to Shanghai on Wednesday where he signed an agreement with Chinese President Xi Jinping for the export $400 billion in Russian natural gas over the next 30 years. This preemptive economic attack comes in response to the West's impotent threats to limit Russian energy exports to Europe.
The move represents a tectonic shift in the geopolitical balance of power toward Asia. It cements years of Sino-Russian military cooperation by creating critical economic bonds. China, too, has it's own expansionist agenda and has been instigating incidents in the Pacific with the aim of carving out it's own uncontested sphere of influence.
The conservative columnist Charles Krauthammer said on Friday that this development reversed the achievements of Henry Kissinger and Richard Nixon who deftly exploited the Sino-Soviet split in 1972 and created a competitor for Moscow's dominance of the communist world in Beijing.
The symptoms of American decline are everywhere, and Russian expansionism is merely one of them. As American influence appears to wane, smaller powers become susceptible to pressure from rising powers on its borders. The West's feeble response to Russian expansionism will lead more nations to weigh the benefits of joining with America's expansionist balancing powers. Meanwhile, Western intellectuals comfort themselves with the fiction that history ended on Christmas Day in 1991, and the dynamics of international order that have governed geopolitics since the Peloponnesian War are a thing of the past.
Obama telegraphed to Moscow in 2012 that his second term would be a window in which they had their best opportunity to right a few historical wrongs. The Kremlin is making the most of it.
In an interview on CNBC on Friday, Putin was asked to respond to the president of the world's lone superpower and the commander of the most powerful military in history's criticisms of his actions in Ukraine. "Who is he to judge?" Putin replied dismissively. "He wants to judge people, why doesn't he get a job on a court somewhere?"
Putin's audience was not CNBC viewers. It was the world's anxious bandwagoners troubled by America's retrenchment and retraction. The message: the post-Cold War order is dead.
Message received.
[Image via White House / Reuters]
— —
>> Follow Noah Rothman (@NoahCRothman) on Twitter
Have a tip we should know? tips@mediaite.com