Rothman to Hugh Hewitt: Halperin 'In Good Company' Not Blowing Whistle on Obamacare in 2012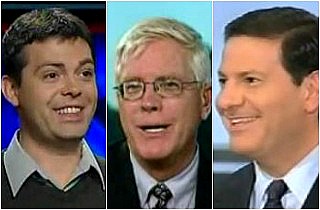 Mediaite's Noah Rothman joined conservative radio host Hugh Hewitt on Tuesday evening where he discussed comments recently made by TIME Magazine political analyst Mark Halperin who said that the end-of-life cost control measures within the Affordable Care Act could be equated with the long-discussed conservative notion of "death panels." Rothman said that Halperin was "in good company" with a number of journalists who neglected to highlight the accuracy of conservative criticisms of the ACA during the 2012 election cycle.

"You caught him in a major double standard today," Hewitt said of Rothman's recent column in which he highlights a tendency among some reporters to blame Republican enthusiasm for a lack of coverage of certain public policy issues.
"He's actually a really honest guy and he was saying honestly about what the nature of the IPAB is," Rothman began. "Halperin came out and said, yeah, I mean, this is a health care rationing board. This is how you cut costs and control end-of-life costs, which are — to his credit, legitimately — a real serious driver of health care costs in this country."
Rothman said that radio host Steve Malzberg was taken aback when he heard Halperin lend credence to the conservative idea of "death panels" in the ACA.
"You say he's an honest guy," Hewitt asked. "When did he ever say that prior to the election, prior to the appearance of his book and his need for publicity to drive sales? Have you ever been able to find any time that Mark Halperin agreed with the characterization, whole, part, or in substance, "
RELATED: Rothman: The Media's Corrosive Excuse for Not Covering Controversies: Republicans Cared
"No, but he's in really good company," Rothman replied. "They've been doing this for some time, as I wrote about in that column. The ACA is the latest example but the Benghazi scandal is another one, where legitimate journalists and journalism professors were going out and saying, 'We couldn't really investigate this too thoroughly because conservatives were really excited about this issue.'"
"I'd be very slow to credit someone with a claim to journalistic integrity when their integrity only comes up when it doesn't matter," Hewitt replied.
Listen to the clip below via The Hugh Hewitt Show:
[Photo via screen grabs]
— —
> >Follow Noah Rothman (@NoahCRothman) on Twitter
Have a tip we should know? tips@mediaite.com