Roy Moore Was Reportedly Banned From Alabama Mall Because He Badgered Teen Girls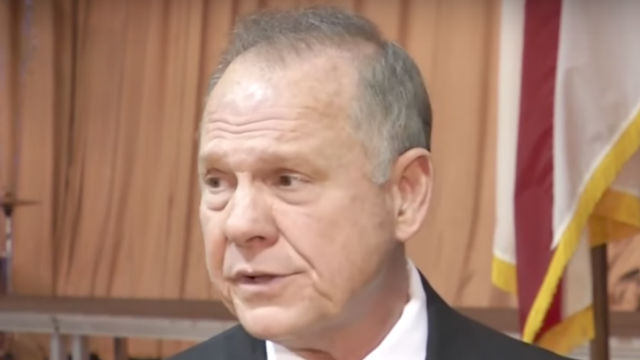 In the Washington Post's explosive report on Alabama GOP Senate candidate Roy Moore and the allegations that he pursued relationships with teenage girls when he was in his 30s, it was noted that two of the accusers said they first met Moore at the Gadsden Mall. The report also noted that several other women remembered Moore frequently walking through the mall alone and he was typically "well-dressed in slacks and a button-down shirt."
In a new story by The New Yorker, a number of local sources told reporter Charles Bethea that Moore was banned from that mall fore constantly pestering teen-aged girls.
Greg Legat, who is now fifty-nine and living in East Gadsden, was, from 1981 to 1985, an employee at the Record Bar, a store that was in the Gadsden Mall. By the early eighties, Legat told me, the mall was "the place to be. There were no empty stores. And lots of kids came around. Lots of teen-agers. You went there to see and be seen." Legat met his wife, Jo Anne, there. She worked at a restaurant called Orange Bowl. Legat remembers that parents dropped their kids off at the mall, typically unchaperoned. Teens filled the place.

Legat says that he saw Moore there a few times, even though his understanding then was that he had already been banned. "It started around 1979, I think," Legat said. "I know the ban was still in place when I got there." Legat recalled a Gadsden police officer named J. D. Thomas, now retired, who worked security at the mall. "J. D. was a fixture there, when I was working at the store," Legat said. "He really looked after the kids there. He was a good guy. J. D. told me, 'If you see Roy, let me know. He's banned from the mall.' " Legat recalled Thomas telling him, "If you see Moore here, tell me. I'll take care of him.' " Legat said that his boss, Eddie Hill, also told him to look for Moore. A phone call to Hill's number was not returned.
Bethea also spoke with two law enforcement officers about the rumored mall ban. One of the officers — both asked to remain unnamed — noted that the "general knowledge at the time when I moved here was that this guy is a lawyer cruising the mall for high-school dates." It was also stated that Moore had been run off from several stores because he wouldn't leave girls alone.
The other officer said he was told by a friend of his that Moore was banned from the mall and that he was now disgusted by Moore even though he voted for him in the primary.
Earlier today, another woman, Beverly Young Nelson, came forward to accuse Moore of attempting to rape her when she was only 16. As he has done with the previous allegations, Moore has denied this one, stating that he doesn't even know the woman. The ex-Alabama judge has claimed he is going to sue WaPo over the original report.
And in a report out in AL.com today, several local residents said it was well-known that Moore pursued teen girls during that time. One went on the record to say it wasn't a secret:
"Him liking and dating young girls was never a secret in Gadsden when we were all in high school," said Sheryl Porter. "In our neighborhoods up by Noccalula Falls we heard it all the time. Even people at the courthouse know it was a well-known secret.
[image via screengrab]
—
Follow Justin Baragona on Twitter: @justinbaragona
Have a tip we should know? tips@mediaite.com