Rush Limbaugh Mistakes Trayvon Martin Protesters for Anti-Iran Deal Demonstrators
Rush Limbaugh was so frustrated that he couldn't find any photos from last week's anti-Iran deal protest in Times Square that he decided to post his own on Facebook. Unfortunately, as Media Matters was first to reveal, the photo he used was actually from a Trayvon Martin protest. It is still up on his page five days later: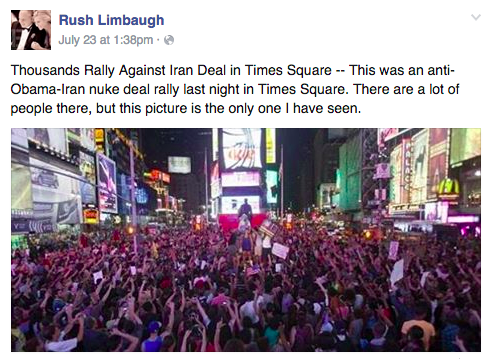 Note the cardboard cutout image towards the back of the image. It looks a lot like this: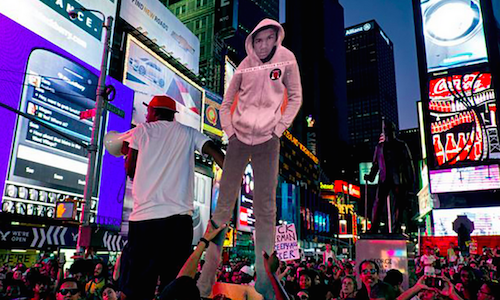 The same day Limbaugh posted the image on Facebook, he decried the lack of media coverage of the Iran deal protest on his radio show. "I've not seen any footage of the massive protest in Times Square against the Iranian nuclear deal," he said. "It's amazing, the supposedly massive protest in Times Square, thousands and thousands of people in Times Square."
Later, he announced, "I finally found a picture of the anti-nuclear deal protest in Times Square," holding it up on the screen for his streaming video viewers. "This was last night an anti-Obama-Iran nuke deal rally in Times Square," he added. "We will also put this up at RushLimbaugh.com so you'll be able to have a better shot of it, digital shot of it if you want to be able to spread it around to people. Because honestly, we haven't seen any video."
The photo from the Trayvon Martin protest also currently remains on RushLimbaugh.com with no correction added.
Listen to audio below, via The Rush Limbaugh Show:
Meanwhile, the Associated Press did report on the "thousands" of protesters who attended last Wednesday's "Stop Iran Rally" in Times Square, publishing several photos from the event at which GOP presidential candidate George Pataki spoke. None, however, deliver the dramatic punch of the one Limbaugh has been urging his listeners to share online. One dead giveaway of the error is that the Iran demonstration occurred during the day while the image Limbaugh posted was taken at night.
As for video footage of the event, here is just one report via CBS New York:
[Photo via screengrab]
— —
>> Follow Matt Wilstein (@TheMattWilstein) on Twitter
Have a tip we should know? tips@mediaite.com