Rush Limbaugh: Obama 'Insulting Us Like Never Before' With 'Lie' About Social Security Checks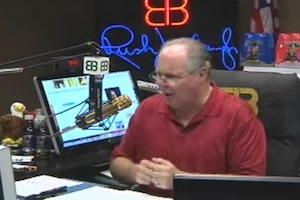 Rush Limbaugh could barely contain his disgust for the words coming out of President Obama's mouth during his interview with CBS' Scott Pelley. In addition to Rush wincing as he heard the sound of Obama's voice, he also targets Pelley for lobbing unbelievably softball questions.
Rush played an exchange between Pelley and Obama, with Pelley asking "Can you guarantee as President [Social Security] checks will go out" if the debt ceiling is not raised, and Obama responding that, no, he could not guarantee it. Rush had his own view:
"That's an out and out lie. And if I didn't know better, I would say the White House gave Scott Pelley a script. . . . This is an outrage here because this is not true. And this is – my God, it is the playbook. Hold senior citizens and military people hostage!"
Rush insists that of course these checks will go out, despite Obama's alleged scare tactics. And as further proof that Obama and his administration are "insulting us like never before," Rush blasted "Mr. Claire Shipman" (White House Press Secretary Jay Carney, for those who aren't among Rush's regular listeners), for claiming in a press briefing that Obama "doesn't have a vote" on the debt ceiling and that responsibility lies with Congressional Republicans. Rush excitedly concluded, if what Carney said was true, why would anybody waste time talking to Obama? Yet since Obama can veto any debt limit bill, Rush says of course he has a "vote," and he can't try to pull a fast one and try to blame Republicans.
Watch the clip from The Rush Limbaugh Show below:

Have a tip we should know? tips@mediaite.com