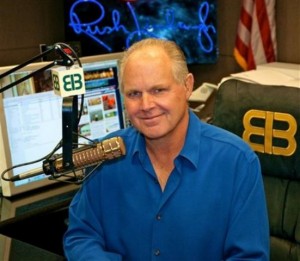 Rush Limbaugh thinks it is way too early to be making broad predictions regarding the potential for success of any Republican candidate against President Obama in 2012. That is why a Mediaite article titled "Bill O'Reilly On GOP 2012 Lineup: If I'm Obama, 'I'm Not Quaking Over There'" left Rush scratching his head.
After reading the eloquently written article in its entirety, Rush suggested even if the two "smartest guys in the room" Charles Krauthammer and George Will agree with one another, and despite Bill O'Reilly having his own separate opinion, Rush wasn't in agreement with any of them. Krauthammer and Will, representing a view Rush dubbed "conventional wisdom," suggested that Republicans don't have a chance of defeating Obama unless the nominee is one of five "serious" candidates: Mitch Daniels, Haley Barbour, Tim Pawlenty, Jon Huntsman and Mitt Romney. O'Reilly, representing a view that Rush sometimes implies does not resemble wisdom, suggested Republicans don't have a chance if the nominee is one of those five candidates.
Rush on the other hand doesn't think Mike Huckabee and Newt Gingrich should be dismissed from consideration, and knows too little about Huntsman to consider him a serious candidate. Overall, in a rare role reversal, Rush seemed to be urging others to calm down and not rush to judgment yet about which candidates could or could not beat Obama. With plenty of time left before the 2012 presidential election, Rush reminds listeners with past examples that surprises can, and most likely will happen.
Listen to the clip from The Rush Limbaugh Show:

Have a tip we should know? tips@mediaite.com