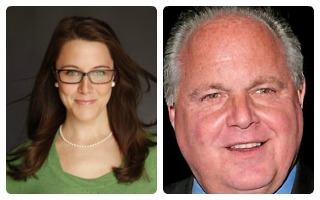 MSNBC host and New York Daily News columnist S.E. Cupp made headlines when she was recently quoted in a New York Times Magazine profile urging conservatives to not be afraid to call out conservative radio host Rush Limbaugh when he makes comments that reflect negatively on the Republican Party. In her column on Tuesday, Cupp took on Limbaugh's fans who 'exploded in apoplexy' over her comments. "There will be no apology," Cupp wrote.

RELATED: S.E. Cupp's Advice To GOP In NY Times: Don't 'Be Afraid To Call Out Rush Limbaugh'
Cupp says that her comments in the New York Times Magazine resulted in predictable but nevertheless outsize rage from fans of the conservative radio host:
Rush's fans, who call themselves "Ditto-heads," did not appreciate this. "He's done more for conservatism than you ever will," one angrily tweeted. "You are a troll hack who has to kiss arse at MSNBC" tweeted another, referring to my show on the left-leaning network. "She will now enjoy her invites to the left wing Manhattan cocktail parties," one wrote; another insisted that I "Name one thing that Rush has said that is crazy," as if that would be an impossible task.
"Some demanded I apologize. Others implied I just committed career suicide. Others still politely suggested I commit actual suicide," Cupp added.
She went on to say that the instinct to defend every conservative, even when they make indefensible comments, "has the deleterious effect of making conservatives seem irrational and herd-like."
"Rush's fans still decided that my conservatism was discredited," Cupp wrote. "Disagreeing with him, or merely offering that we should feel comfortable disagreeing with party leaders now and then, suddenly made me an untrustworthy, sell-out liberal."
"It's not my desire to silence anyone," Cupp concluded, "but amplify other voices, many of whom don't feel like they have permission to disagree with party heavyweights."
Read the full column via The New York Daily News
> >Follow Noah Rothman (@NoahCRothman) on Twitter
Have a tip we should know? [email protected]
---