Sarah Palin: 'Disgusting' That Brian Williams' 'Corrupt Colleagues' Covered for Him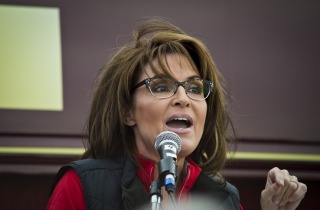 Sarah Palin waded into the Brian Williams pile-on tonight with a lengthy Facebook post attacking not just the NBC Nightly News anchor but his "corrupt colleagues."
First, Palin doesn't want Williams to resign because his continued presence will "remind America how this all works, and to justify our complete turning away from his ilk in mainstream media."
But secondly, and more importantly, Palin uses the occasion to make the story about herself. She brings up the one time back in 2008 that Williams mentioned a false story that she banned books as governor of Alaska, and uses it to attack now just Williams, but the entire media in general:
I was tainted as an anti-First Amendment book banning wacko. Brian Williams lied about me in order to affect the way I would be perceived by Americans during the 2008 election. He lies. There is no other way around it. But what's especially disgusting is the way his corrupt colleagues covered for him. I have never and will never let the shroud of victimization cover me – God's given me way too many undeserved blessings to dishonor His goodness by wasting time crying "victim" – but I'm happy to recall the hundreds of Palin-centric false reports if it helps America understand you must never trust JournoList-types.
She also writes, "I was aware of their collective unethical character not only because my college degree was earned using the complete opposite journalism tactics of JournoList's, but also because I lived it first hand."
You can read Palin's full post here.
[image via Shutterstock]
— —
Follow Josh Feldman on Twitter: @feldmaniac
Have a tip we should know? [email protected]
Josh Feldman - Senior Editor