Sarah Palin, Justin Bieber, The Situation Among Barbara Walters' 10 Most Fascinating People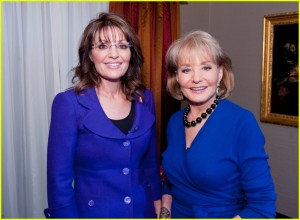 As she has done for the last 17 years, Barbara Walters has once again drafted her Ten Most Fascinating People of the Year list. And it's quite a list: Sarah Palin made the cut, as did Justin Bieber, LeBron James, and the entire cast of Jersey Shore. And if that doesn't sound… enticing enough, Walters is also keeping hidden the identities of two mystery guests, which she'll disclose on when her special airs on Dec. 9th.
ABC News has released a preview of how the interviews will play out. Palin, who will be celebrating her third consecutive year on the list, will discuss some of the "BS" being spread about her family:
There's also rumors that Trig isn't my son. There's also rumors that Track went to Iraq to avoid jail. There is a lot of BS out there. I don't want to just believe that it comes with the territory, when you put yourself forward, in the name of public service, that you have to take that kind of garbage that's out there. There are constant rumors out there about us. I saw on the cover of a tabloid, that we were getting a $20 million divorce. I was in the grocery checkout line when I saw it and I called Todd and said, "I can't believe the cover of this magazine! This is what it says." And Todd says, "20 million bucks? Write me a check."
Walters will also talk to Bieber about his mom, ask Betty White about her sex life, and have the Jersey Shore gang teach her what "smooshing" is.
Yikes. Check out the slideshow below to find out who else Walters will talk to for her annual special.
[imageviewer id=37]
Have a tip we should know? tips@mediaite.com