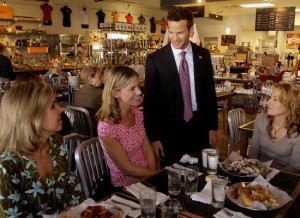 Illinois Republican Rep. Aaron Schock, 28, is the youngest member of Congress and a product of the GOP's Young Guns program, which works to get young Republican talent into office. Serving in Abraham Lincoln's district, he's an honest hard-worker who began his IRA at age 14. And, if you ask NPR, he also "has the best abs."
But NPR is not the first and certainly won't be the last to cover Schock, or prominently feature his abdominals. The unusual and ongoing media attention began when Huffington Post readers voted Schock the "Hottest Freshman" in the 111th Congress, to which he said, "I appreciate this honor, but my real goal is to have a 'hot' legislative record on behalf of the people I serve."
Then TMZ began stalking Schock and eventually unearthed a photo from a friend's MySpace page of Schock, poolside without a shirt, a set of breasts seemingly cantilevered above his head.
Since then, Meghan McCain has declared Schock a "House Hottie" in a column for the Daily Beast. At the end of July, The Hill included Schock in their list of "50 Most Beautiful." Schock has also enjoyed a boatload of television airtime for a freshman congressman, appearing everywhere from  Howard Kurtz's Reliable Sources on CNN to The Colbert Report.
Schock was spotted during a photo shoot for GQ earlier this summer in the streets of the Capital. This, after he was profiled in the May Issue of GQ brother publication, Details. As you might imagine readers didn't exactly come away with a working knowledge of his policy.
"I used to be able to eat and drink whatever I wanted," he says as he deliberates over whether to order a Coke or a Diet Coke with his cheeseburger and fries. "But now, when I'm in a suit and tie all the time, sitting and being driven, you can just feel your body"—he puffs out his cheeks and spreads his arms like a balloon, then lets out a sigh. "I think it's also because I'm getting older."
Who thought HuffPo readers and Harvey Levin's gossip machine might really be setting the agenda for political coverage, even on the Daily Beast-Men's Mag-Colbert Report level? Of course Schock doesn't mind. He told Details:
Most aren't picking up the New York Times to get their daily dose of politics. They're getting it online. They watch YouTube, they Twitter, they have Facebook pages—those are their means of communication. But a lot of older people just say, 'Well, young people aren't going to vote for me, so I'm just not going there.' Well, any time you write off a demographic, you're going to get your tail handed to you, as evidenced by McCain's campaign
Schock might be a campaign strategy pioneer. "[L]ittle did I know that, you know, a picture from two years ago from someone's MySpace page would end up on, you know, national TV," he told NPR. With that, anybody looking to get media facetime in the 2010 midterm elections might want to start doing crunches and lounging around shirtless now.
Photos, from top: Huffington Post (via Getty and AP); TMZ.
Have a tip we should know? tips@mediaite.com